Upendra Maharathi
उपेन्द्र महारथी
उपेन्द्र महारथी ( 1908 - 1981 )
Profile of Upendra Maharathi ( 1908 - 1981 )
Birth - Born in the village Narendrapur, Puri district in Orissa, in May 1908.
Education -  Studied painting in the School of Art in Calcutta, 1925 - 1931. The renowned Indian art expert, Percy Brown, was then the Principal, Passed the diploma in first class.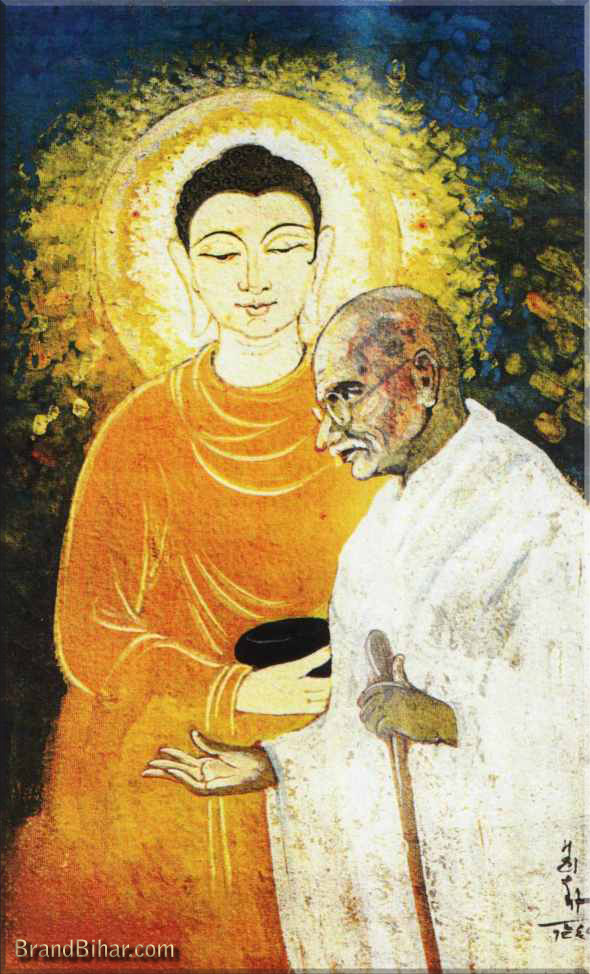 Meeting of two great saints across the time Oil on canvas, 1960
He came to Bihar in 1931. From 1933 to 1942 he advocated a literary-cultural revival as he worked in the publishing house, Pustak Bhandar, in Laharyasari, Darbhanga.
In 1942, he was appointed a special Designer in the Department of Industry, Bihar.
In 1954, he visited Japan to attend the UNESCO International conference as Indian representative. He became skilled in ceramics, lacquer and metal works.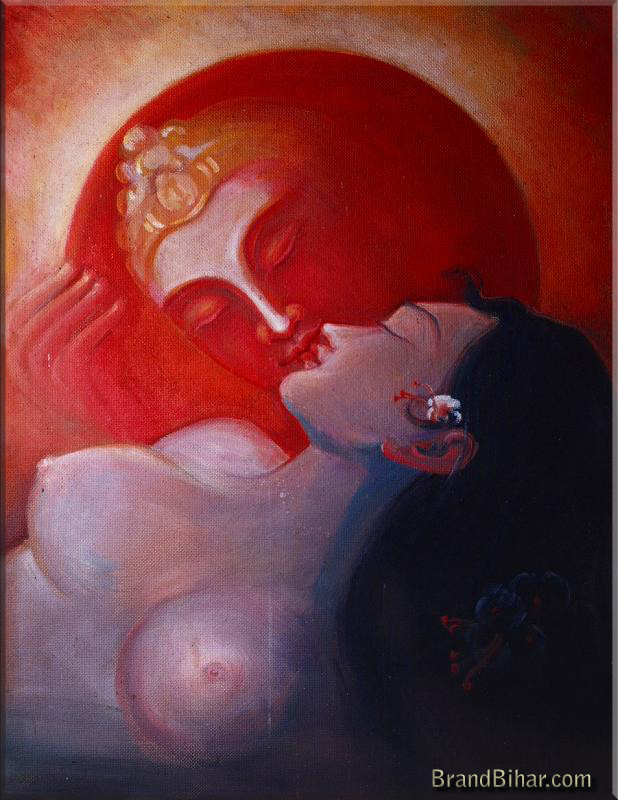 In 1955, he founded the Institute of Industrial Designs with the purpose of encouraging and developing folk art and craft of Bihar. After his death the Bihar Government named it as "Upendra Maharathi Reseach Institute".
In 1969, he was awarded Padamshree and in 1976 was nominated as a member of the Bihar Legislative Assembly.
Published work - The Book on bamboo art, "Venushilpa" was highly acclaimed in the coutry and abroad. The other books include - Vaishali ke Lichhvi  (The Lichhvi dynasty of Vaishali), Bouddha Dharma ka Abhuthan  (The Rise of Buddhism),  Indragupta ,,,,,,,,,,,,,
Follwing the tradition of ancient art of sculpture, he designed many noted buildings : Venuban Viharin Rajagriha, Sandarbh Vihar, Ananda Stupa, Prakrit and Jainology Institute in Vaishali, Nava Nalanda Maha Vihar at Nalanda, etc.
Death - February 1981
Chitracharya Padmashree Upendra Maharathi
Chitracharya Upendra Maharathi was born in Orissa, but flourished in Bihar. Ancient Kalinga (Orissa) held a place of honour in the cultural map of India and was in intimate relationship with the surrounding countries, but she always held her own individuality. During the first century B.C. Emperor Kharvel of Chedi dynasty built the richly sculptured gumphas (Caves).  We can still witness a series of sculptures depicting a story like Sakuntala's near Bhubaneswar. The sculptures are so life-like and artistic that they attract us like the beauty of a lotus. They have all the beauty and originality of folk art. These sculptures in a sense may be described as the forerunners of the Ajanta creations. The unknown masters made the mouths of caves from uncut rocks look like tigers. These caves at different places are known as Byagragumpha (Tiger cave).
In the long and colourful artistic history of Orissa decorative art and its depiction of the forest civilization hold a special place. These ornamental decorations open a new vista before us and do not constrain our imagination.
To appreciate the art of Upendra Maharathi one has to remember this sense of freedom, for his art assimilates the culture and spiritual freedom expressed in the poem Geeta-govindam, Odisi dance or Chhau dance.
Bengal school of art was deeply influenced by the Frescoes of Ajanta and to a certain extent by the Gupta Vakataka art technique. The disciples of Abanindranath - especially Surendranath Kar, Mukul Dey, Manishi Dey, Sudhir Khastagir - attempted to give a broad based culture to this movement. Abanindranath invited traditional artists like Giridhari Mahapatra of Orissa, Iswariparasad Varma of Bihar and the wood craftsman, Dhanapati Acharya, from the south to join the Calcutta school of art. Abanindranath brought to his new art and painting the traditional wealth and vigour of Indian art. Upendra Maharathi carried on this great cultural heritage.
Since his childhood Upendra was deeply influenced by contemporary folk art and culture. His later artistic creations are like the undisturbed melody of a spiritual song.
He was inspired by the folk art of Orissa, its rhythm, freshness, continuity, richness and simple ornamental style and strength of assimilation. So when he joined the Calcutta School of Art in 1925 as a student, he had the capacity to digest the new aesthetics and art, the urban technique, sense of colour and form and the sophisticated art vocabulary. Maharathi digested different and even contradictory aspects of Indian art and evolved his own idiom of expression in the orchestra of indigenous art.
When Upendra Maharathi was establishing himself as an artist, the paintings of Nandalal Bose demonstrated the influence of the traditional art of South Asia and yet a vigourous authentic style of his own. This was revolutionary. One has to note that the stream of south Asia's painting and culture was largely treceable in the ancient paintings of Orissa and Andhra. Did Upendra Maharathi ignore the message of this new art movement and cling to his hereditary views or was inspired to new ventures? It seems that more than paintings, Nandlal Bose's creations in handicraft opened a new world of expression for him.
Those were glorious days of Bihar in the area of history and culture: Acharya Kashi Prasad Jaiswal and his close associate, Rahul Sankrityayana deserve special mention. Shri Upendra was then associated with the publishing house "Pustak Bhandar" of Lahariyasrai like the famous literateures of Bihar. Acharya Shivpujan Sahai, Dinkar. Benipur Prafullachandra Ojha "Mukt", Janakiballabh Shastri, Nepali, R.C. Prasad Sinha, Monoranjan and others. The spirit of this wide literary culture must have left its imprint on the paintings of Shri Maharathi.
In the context of the session of Ramgarh Congress, Desharatna Rajendra Prasad inspired the publication of a pictorial book in which the ancient glory of Bihar was revealed in a very attractive manner. We believe that the paintings printed in that volume are all well preserved and possibly there were portrait paintings from Janakrishi to Babu Kanwar Singh. We have not seen such paintings anywhere that meaningfully capture the times, the culture and the spirit of the land and people in artistic expression.
Shri Upendra was entrusted with the construction and design of the main gate and pandal of the Ramgarh Congress session. The splendid and novel decoration of the gate and pandal asserted the vigour of folk art. In a sense, a new movement in folk art was initiated in this Congress session. In 1932 Shri Maharathi joined the famous publishing house, "Pustak Bhandar" and school books published by "Pustak Bhandar" contained the sketches and ornamental designs by Shri Maharathi and his name became familiar to thousands of school-going children in Bihar. It was a silent cultural revolution. He left "Pustak Bhandar" in 1942.
Lahariyasarai is situated in Mithila. When he was living there, he regularly interacted with local groups of folk art and handicraft, which were later enriched by his own handicraft creations. The devastating earthquake of 1934 brought before the public eye the inimitable Frescoes of Madhubani style. W.B. Arthur, I.C.S. was the first person to discover the richness of the treasure. Maharathi was also influenced by Madhubani paintings.
In 1942 Shri S.N. Majumdar I.C.S. was the Director of the Department of Industry in Bihar. He had been a great admirer of Shri Maharathi and gave him an appointment in his department. It was a new fruitful chapter in his life. Few know today that many absconding Congress leaders and revolutionaries used to hide in his Patna residence. While he was employed in Bihar Industry department, he gave signal service to the cause of art and handicrafts. It is necessary to point out here that Indian art does not recognise any barrier between fine arts and applied art, between commercial art and folk art. Indian aesthetics takes an integral view of an artist's creations in music, drama, literature (particularly folk art) and ritual art: They form an integrated meaningful pattern.
The heritage of the rich Odissi culture, an asset to Shri Maharathi, blended well with the later cultural influences. In his artistic development all these different strands were to be witnessed. People of Bihar during the decade (1932 - 1942) were inspired: by the legend. I am alone but here there is a multitude. This picturesque image inspired him to commercial use of ornamentation in book publishing trade. The books of Radhikaraman Prasad Singh, Raja of Suryapura, ornamented with his sketches, brought him fame. It was said that publication of Pustak Bhandar of Lahoriyasarai were distinguished for their decorative sketches, different from pictures with tchnical excellence and colour. Indeed he brought a revolutionary change in the world of book publishing and may be said to be a pioneer in Hindi publishing world. We can describe that time as "the age Upendra Maharathi".
The artists of the village conquered the master's heart. He infused in them his own sense of beauty and form. The things we use everyday in our life bacame more sophisticated. Specially, his artistic creation in wood, bamboo or clay utensils deserve mention. He opened a new world. The artistic handicraft works of Bihar became the ideal in India, though the expression of his movement was of different variety in different areas and places. It shows the excellence of the artistic genius when it is not restricted to the field of represention only but assimiliates local culture and adds a new dimension to it. In the same way the Tribal art and craft of the Chhotanagpur area was channelled into making beautiful articles of everyday use. In this movement we perceive the personality of an artist and the philosophy of Mahatma Gandhi. He was also associated with the textile industry and for about two decades, since 1942, was engaged in inbenting beautiful textile designs which denoted significant changes in his art and technique.
We note two great influences on Shri Maharathi's life and art : his great respect for Buddhism and his dedicaton to Gandhian philosophy. We can even say that he saw a new face of Buddhism through the prism of Gandhism.
Many do not know today that Achrya Maharathi used to live as a recluse (ekantabas) in Buddhist places of pilgrimage like Bodhgaya, Rajagriha or Vaishali. This life of contemplation vitalised his art and vision. He went to Japan for two years and was deeply impressed with Japanese technique and art. He saw a new variety of Buddhism in Japan which he assimilated eagerly. Japan taught him the significance of meditation in our life. He came back and went to the society of traditional craftsmen or of the Tribal people. He gave life to their traditional sense of art : the stone pots made in the district of Gaya took a new shape and form for he taught them how to introduce new comfortable stone pots to be used everyday and also as decorative pieces. It was possible to inspire these craftsman with a new culture because he was one of them and earned their love and trust. Bamboo, cane and stalks are widely associated with the life of common men. With these materials village craftsmen in their homes and dofferent areas make so many kinds of useful items for daily life. Unfortunately this rich tradition cannot withstand the attack of plastics and stainless steel products and is facing a slow death. It seems that without the sympathetic vision of an artist like Shri Maharathi the traditional cottage industry cannot survive. He saw in these articles of everyday use infinite possibilities and strength. He faced the problem how to reconcile the tradition and yet give the creations a new personality. His broad vision was capable of realising his dream and yet retain the flavour of traditional art and consequently give them a new personality altogether. These useful decorative pieces may be employed as ambassadors of Indian culture abroad.
This revolutionary application of an original vision is to be seen in cane toys, cane baskets, mattresses, pots, etc. In the traditional wood work one finds toys, leaves and flowers, animals and birds as decorative pieces. In metal works, specially in the medium of brass and bronze, different shapes of candle stands, vermillion pots, incense stands, lamp stands and earthen lamps deserve mention.
Lacquer work, utensils and toys made of burnt clay are noteworthy for their novel shape, expression and colour scheme. Black or soap stone of Gaya has been widely used for making utensils and pots. We are really surprised that Master artist Shri Maharathi touched so many areas and left his creative imprint on them: popular taste and artistic sense nurtured by age old tradition, lights up with beauty and a singular novelty of freshness. Not only this, he founded "The Institute of Industrial Research" with the avowed purpose of preservation, research and promotion of 24 varieties of handicraft works of Bihar. After his death Bihar government dedicated the Institute to his memory. It is now know as "Upendra Maharathi Institute od Industrial Research".
We hope that the dream of Shri Maharathi will be realised in future.