Hathras District, Uttar Pradesh
Geography of Hathras, Uttar Pradesh
Hathras is located at 27.6°N 78.05°E. It has an average elevation of 178 metres (584 feet). It is situated on Agra - Aligarh and Mathura- Bareilly Highways crossing.
Hathras is a city and a municipal board in Hathras district, in the Indian state of Uttar Pradesh. It is the headquarters of the district that was created on 3 May 1997, by incorporating parts of: Aligarh, Mathura, Agra Districts, and Khair Tehsil. It forms a part of Aligarh Division.
Hathras lies within the Braj region in Central or Middle Doab, and is associated with the epic Mahabharata and Hindu theology. The principal spoken language is Hindi. Its dialect, Braj Bhasha, which is closely related to Khariboli, is spoken in this region.
Transport of Hathras, Uttar Pradesh
Four railway stations serve Hathras: Hathras Junction railway station, Hathras Road railway station, Hathras City railway station, and Hathras Kila railway station. The distance between Malipura, Khair and Hathras is 48 km. and Aligarh is 38 km. far away from Hathras.
Air transport:- There is no air strip in this district so far.
Tehsil List of Hathras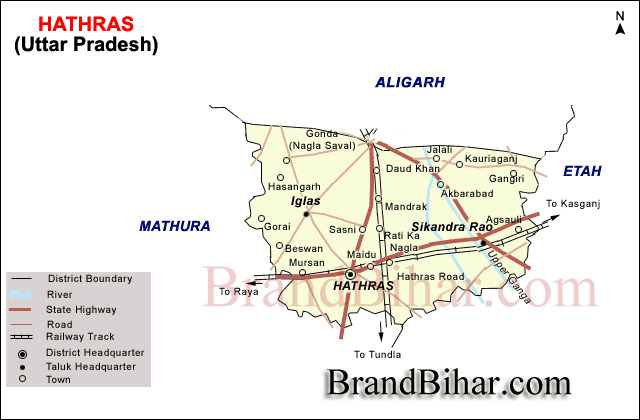 List of Blocks
Block Name
Distance from Headquarter
Nearest Railway Station
Distance
Hathras
3 Km
Hathras City
3 Km
Sadabad
19 Km
Jalesar Road
14 Km
5
Sehpau
30 Km
Jalesar Road
3 Km
Sikandra Rao
35 Km
Sikandra Rao
-
Hasayan
32 Km
Nagla Rahi
5 Km
Distance of Headquarter from nearby districts:-
Name of District
Distance from headquarter of Hathras
Direction from Hathras
Aligarh
33 Km
Towards North
Mathura
41Km
Towards West
Culture of Hathras, Uttar Pradesh
The city boasts a rich cultural heritage and presents a wide array of prosperity in literature, architecture, music, drama, poetry, cuisine and local festivities.
Literature & Poetry: Hathras has stayed a seat of great works both in prose and poetry in various varieties and periods. It has been the home of the famous saint of 18th century Tulsi Sahibwhose works consists of Shabdavali, Ratan Sagar & Ghat Ramayan.saint gaya prassad ji and Pandit Bansh Gopal tiwari known as most renowned vedantic personality from this city. Of the modern times, Prabhu Lal Garg famously known as 'Kaka Hathrasi', a poet, musician and painter, has been the most renowned personality in this field from this city. He was conferred with the 'Padamshree' award by the Govt. of India. Kaka ke Kartoos (Bullets of Kaka), Kaka ke Prahasan, Kaka ki Cocktail, Kaka ki Phuljhariyan, Hasant-Basant, Kaka-Kaki ke Love Letters, etc. are some of his famous works. Even to this day, people of this place have an immense interest in poetry.
Music & Drama: The important folk songs of the city are the - Rasiya while the traditional folk dance of the city is the Swang or Ras. The city has been a regular centre for the development of these arts and has thrived on its cultural richness. The most eminent figure in this field has been Natharam Gaur, the master of the art of 'Swang & Nautanki', a form of dramatics. A proponent of the legendary 'Indaraman' school of Swang his works include Amar Singh Rathore, Harishchandra, Siri Farhad etc. These traditional arts are still cheered all over the district and are frequently conducted round the year.
Architectur e: The city still has many buildings from the old times with intricate designs on their facades and excellently carvings at their entrances. There are various Haveli built by rich people in the past, Bagla ki Haveli is the famous one. The old havelis are mostly built of Red stone from Rajasthan and the style also imitates that of Rajasthani Havelis.
Eating Habits: The city is famous in the region for its sweets made from Desi Ghee. Unlike nearby Mathura city which is famous for sweets made from milk and milk products, In Hathras sweets are mainly prepared from Ghee. These sweets are Sohan Halwa or Son Papdi, Balushahi, Jalebi and Imarti, Gajar Halwa, Mung Halwa. In the city there is a tradition and culture to distribute/ share sweets on celebrations and used as a gift on occasions. People living in the region love sweets and traditionally consume sweets in their day to day life. There are several sweet-shops in every nook and corner of the city.
Chaat is popular as a snack in the area which is mostly savoury snacks including Tikki, Padake, Dahi Vada etc.
In breakfast you will find Bedami Poori, which are poori's filed with Moong lentils served with potato curry and curd Raita. Generally sweet shops in the morning serve this dish as breakfast.
Fairs and Festivities: All throughout the year the city organizes various cultural fairs and events, the most popular of all is the historical Dauji Fair held in the vicinity of the 19th century ruined fort which has the famous Dauji temple at its top. On the 101st anniversary of this fair (Ganesha Chaturthi, 19 September 2012) the divine tree KALPVRIKSHA planted by Green man Vijaypal Baghel at Dauji temple compound. The fifteen-day fair hosts wrestling competitions, Poet Summits(kavi sammelan), 'Swangs' and 'Nautankis' besides other cultural programmes.
The 'Baghichis' or the gardens of the city are still popular rendezvous for evening sittings.Bohrey Wala Bagh named on Bohre Natthi Lal ji was known in Agra Region for its natural beauty and Ancient Mahadev Temple and renowned Bohre Wali Devi. A typical feature of almost every 'bagichi' is the 'Akhara' or the Wrestling Ring where juveniles and the grown ups practice various forms of wrestling. As such the city has been always there on the wrestling circuit of the country and has produced top notch wrestlers or the 'Pahalwans' for the country time and again.
The 'Laxmi-Narayan Temple' was built around 100 years ago by Lala Jyotiprasadji (Gotewale). He installed the sacred images (murti sthapana) of Hindu god Narayan and goddess Laxmi on jyeshta sudi panchami according to Hindu calendar. Every year, a huge function celebrating the anniversary of the temple and the deities is organized by the successors of Lala Jyotiprasadji (presently Sanjay Gotewale). The temple celebrates all the Hindu festivals like Janmashatmi Nandotasava, Holi utsav including smaller occasions like Annakut, Sankrati Darshan (Khichdi ke Darshan), etc.
The city, owing to its historical cultural background, has numerous temples. Besides them a temple-cum-research complex -'Mangalaytan' has been developed on the Aligarh-Agra Highway. The 'Mangalaytan' complex is one of the largest Jain religious centers of its kind in the country and houses.A university; Manglayatan University too.
Cuisine of Hathras, Uttar Pradesh
Places of interest in Hathras, Uttar Pradesh
Daoo ji Temple
Dauu Ji Mela
Hathras Qilah - The Hathras Fort is an 18th-century fort. The fort was constructed by Jat king Raja Dayaram, and is located in the town of Hathras in Uttar Pradesh.
Events in Hathras, Uttar Pradesh