Firozabad District, Uttar Pradesh
Geography of Firozabad, Uttar Pradesh
Firozabad is located at 27.15°N 78.42°E. It has an average elevation of 164 metres (538 ft). Firozabad district was established on 5/2/89.The District is connected by rail and bus to major cities. The nearest Airport is Agra . Longitude is 78 degree of east and latitude is 27 degree of north . The height is above mean sea level 164.467 meter.
The boundaries of district touch Etah district in north and Mainpuri and Etawah in east. The Yamuna river makes its southern boundary. The area of district is about 0.8% of total area of U.P. and population is 1.1% of total population of U.P. Aproximately 73.6% population is living in rural area. It has severe winter and summer seasons. Mostly district is plane and its slope is from north west to south.
Demographics
As of 2011 India census, Firozabad City had a population of 603,797.Males constitute 53% of the population and females 47%. Firozabad has an average literacy rate of 75.01% higher than the national average of 74%: male literacy is 85.32%, and female literacy is 63%. In Firozabad, 16% of the population is under 6 years of age.
Transport
Firozabad railway station served by the Delhi-Howrah trunk route of the Indian Railways. Several trains serve the city connecting it to long and short distanced destinations including New Delhi, Howrah, Mumbai, Kanpur, Lucknow, Jaipur, Jammu Tawi, Amritsar, Jamshedpur, Patna, Aligarh, Agra, Puri, Ajmer, Ambala, Bareilly, Etawah and Tundla.
Tundla Junction railway station in the Tundla town (20 km west of Firozabad city on National Highway 2) of the Firozabad District is a major railway station of North Central Railways. Due to its proximity to Agra several trains on the Delhi Howrah route which don't stop at Firozabad station make a stop at Tundla Junction hence serving Firozabad as well as Agra cities.
The city is 40 east from Agra on National Highway 2 which makes it an important stopover for the transport vehicles on this highway. Firozabad hence is connected to several bus services to the Western and Eastern parts of Uttar Pradesh state. Due to proximity to Agra and hence the borders of Uttar Pradesh with Rajasthan, Madhya Pradesh states several inter-state bus services also serve the city.Intra-city transport typically consists of Rickshaws, 3-wheelers and ac, non-ac city buses.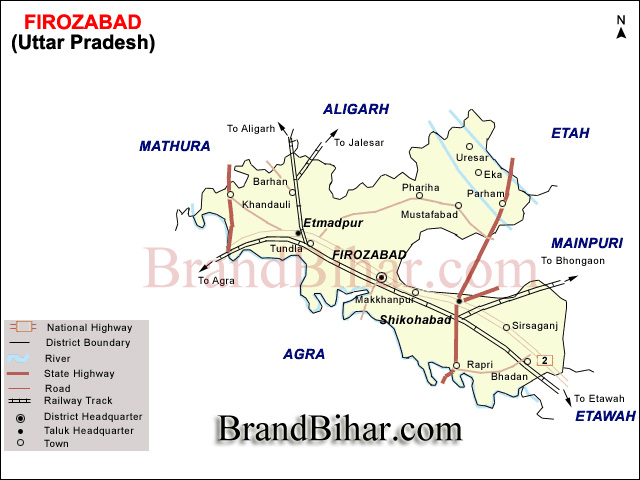 Culture of Firozabad, Uttar Pradesh
There are many Jain temples in Firozabad including the well-known Chadamilal Jain temple, Shri Shuparshnath Jain Mandir in Gher Khokal (Mahaveer Chowk) and Chandprabhu Jain Mandir in Khidki. The two temples of Gherkhokal and Khidki are approximately 250–300 years old. The old name of Chandwar was taken from the idol of Chandprabhu made at the time of Prithviraj Chauhan. Muhammad of Ghor attacked a holy Jain location situated 6 kilometres (3.7 mi) from Firozabad 19 times. An annual fair was held in Chandwar on October 2 . The Jama Masjid, founded by the 16th century Mughal Emperor Akbar is the oldest mosque.
Cuisine of Firozabad, Uttar Pradesh
Places of interest in Firozabad, Uttar Pradesh
Kalan Mosque - Near Firozabad Railway Station, Firozabad, India
Marsalganj Jain Temple - Marsalganj, Firozabad, India
Events in Firozabad, Uttar Pradesh