Farrukhabad District, Uttar Pradesh
Geography of Farrukhabad, Uttar Pradesh
Location & Boundries of Farrukhabad, Uttar Pradesh - Farrukhabad is situated between Lat. 26° 46' N & 27° 43' N and Long. 79° 7' E & 80° 2' E. It forms a part of Kanpur division. It is bounded by Badaun & Shahjahanpur on the north, Hardoi on the east, Kannauj on the south and Etah & Mainpuri on the west.
Topography of Farrukhabad, Uttar Pradesh - The district is a level plane, varied only by a few gentle undulations and slopes, sometimes abrupt, which lead down to the river valleys. The highest recorded elevation is 167m. above sea level at Mohammadabad and the lowest 145.69 m. at Mau Rasulpur in the Trans Ganga flats of Tehsil Farrukhabad. The only marked variation of level is between the two divisions, the upland or bangar, which is a continuation of the doab and the low lands or Tarais, cut away from the upland by the erosive action of the rivers.
Climate of Farrukhabad, Uttar Pradesh - The climate of the district is characterised by a hot dry summer and a pleasant cold season.
The Farrukhabad district consist of 3 Tehsils with a total area of 2,28,830 Ha; has 7 Blocks, 512 Gram Panchayats, 1020 Revenue villages, 14 Police Stations, 2 Nagar Palikas and 4 Nagar Panchayats (Town Area) & 1 Cantt. Board with total population of 15.70 Lacs. Civil administration is headed by a District Magistrate of IAS rank. Law and Order situation is controlled by Superintendent of Police of IPS rank.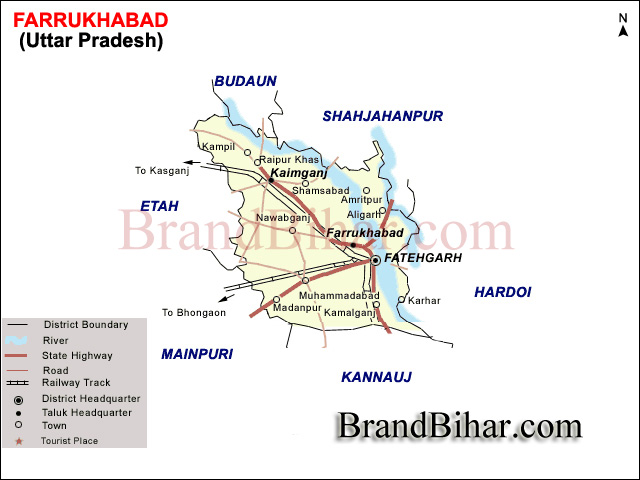 Culture of Farrukhabad, Uttar Pradesh
With the culture and traditions of ancient Vedic Civilization (known as Hinduism) and its principles, Farrukhabad region had a place for all religions, castes, sects and creeds. Farrukhabad is known for its diverse culture. Religious faiths such as Islam, Christianity and Sikhism lead a harmonious, peaceful existence.
Language and Festivals
Hindi is the main language of communication in the city while Urdu is the other widely spoken language that can be noticed in this city. The famous Hindi poet Mahadevi Varma was born in this city. Most of the Muslims in the city speak Urdu as their mother tongue, though they are fluent in Hindi. The culture is vibrant with many festivals (that have been celebrated over thousands of years). These festivals observed with great pomp and splendour are: Deepavali, Holi, Rama Navami, Sankranti, Shivaratri, Navratri, Vijaya Dashami, Ekadasi, Karthika Purnima. Also, noticeable are festivals include Christmas, Eid ul-Fitr, Muharram, Ramadan.
City Lifestyle -
The city's lifestyle has a mixture of both urban and rural with some cosmopolitan element. Like any typical Indian city, the majority of the population is from middle class and lower-middle-class families. With decent cost of living and most basic amenities readily available, the city has a balanced lifestyle. Farrukhabad is known for its fusion of traditional Indian and Western cultures. Locals wear both Indian style and Western style clothing. The common clothing for women is a Saree, Salwar and for men its Shirt, Trousers and Dhoti-Kurta.
Transportation -
Railways -
Farrukhabad comes under North Eastern Railways. Farrukhabad Junction is the biggest and important railway station on Lucknow-Mathura route (via Kanpur). Farrukhabad is well connected to cities like Delhi, Kolkata, Ahmedabad, Jaipur, Gorakhpur, Lucknow, Ajmer, Kanpur,Mathura, Agra and Amritsar. Few years down the line Farrukhabad will be connected to other important cities to promote trade, tourism, healthcare and education in the region. Railways is playing a major role in the economic development of the city.
Roadways -
Farrukhabad is a part of Ganga Expressway, ambitious project worth of 40,000 crores to provide high speed connectivity between eastern and western parts of the state. The city has a bus station belonging to State Road Transport System. It is connected to all the nearby cities through various national and state highways. Common mode of road transport within the city are cars, motorcycles, buses, auto-rickshaws and peddal rickshaws.
Airways -
Farrukhabad has an airstrip at Mohammadabad so that in case of any natural calamity it can be reached easily by small aircraft and helicopters.
Cuisine of Farrukhabad, Uttar Pradesh
Places of interest in Farrukhabad, Uttar Pradesh
Kampil -
Situated at about 45 Kms. from district headquarter in Tehsil Kaimganj, it is a place of great antiquity and is said to have been founded by the Sant Kampila. It was here that the famous Svayamvara took place in which Arjun succeeded in winning the hand of Draupadi. The temple of Rameshwarnath Mahadev, which stands in the town is very old. The temple is traditionally attributed to Shatrughana brother of Rama. It is said that he had brought the idol (Lingam) of Shiva, which was worshipped by Sita, the wife of Rama in Ashok Vatika while she was held in captivity in Lanka. This idol is said to be stalled in this temple. The Sarogi community subscribed to the erection of three temples dedicated to the Jain tirthankara, Neminath which has made the place sacred to the Jains.
Sankisa -
Situated at about 38 Kms. to the south-west of the district headquarters. The lace is known for its association with Budha and its ancient Buddhist remains. According to the Buddhist belief it is believed that it was here that Budha descended again upon earth after he had been for three months in heaven.
Besides above places Kaimganj is known for the chewing Tobacco industry and a Sugar Mill. The district Farrukhabad produced about 8 million tonnes of Potato and hence have about 61 Cold Storages, the district is also known for its Sunflower cultivation.
Events in Farrukhabad, Uttar Pradesh