Patna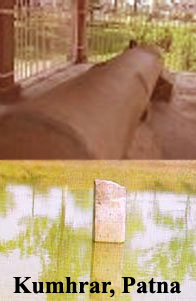 Known as Pataligama to the Buddha, as Pataliputra to King Asoka who made it capital of his vast empire, and in its most recent reincarnation as Patna, this city is now the capital of Bihar. It is a dusty nondescript city but of some interest to the Buddhist pilgrim. The Buddha passed through here several times including during his last journey to Kusinara when he gave a talk "that went far into the night".
In the last Voyage, Lord Buddha accompanied by Ananda. Left Rajgriha and went to Ambalatthika and thence to Nalanda, where he stayed at the Pavarika mango grove. From Nalanda the Buddha proceeded to Patilagramma where Sunidha and vassakara, the chief ministers of Magadha, were building a fortress to repel the powerful Vajjians. Here the Buddha resided in an empty house and predicted that Patiliputra would become the chief city and a trading center, but would be subject to three dangers arising from fire, water and dissension.
How to Reach Patna
General Information

Altitude : 53 metres
Temperature (Max./Min.) Deg C : Summer - 40/21 Winter - Max. 20/6.
Rainfall :120 cms
Best Season : October to March
Clothing: Summer – Cottons Winter - Heavy Woollens.


How to Reach

Air : Sahara India and Indian Airlines flights connect Patna with Bombay, Calcutta, Delhi, Lucknow, Ranchi and many other major cities.

Rail : Patna is connected by rail to Bombay, Calcutta, Guwahati, Ranchi, Varanasi.

Road : All - weather motorable roads connect Patna with the rest of Bihar. There are also regular inter - state bus services.By road Patna to Nalanda-95 km, Rajgir-110 km, Pawapuri-90 km, Gaya-120 km, Bodhgaya-135 km, Raxaul-210 km, Ranchi-335 km, Muzzafarpur-78 km, Sasaram- 152 km, Vaishali-56 km, Calcutta-653 km, Delhi-997 km. Bus : Regular direct bus services connect Patna to Calcutta, Rajgir, Nalanda, Pawapuri, Vaishali, Gaya-Bodhgaya, Ranchi, Raxaul, Muzzafarpur, Sasaram.

Where to Stay

One can stay in western style air-conditioned and non-aircondidtioned hotels. THere are also a number of moderatly priced hotels around the railway station and the airlines office. Tourists can also stay at the Tourist Bungalow of Bihar State Tourism Development Corporation
Tourist Bungalows:

Kautilya Vihar (Tourist Bungalow of Bihar State Tourism Development Corporation),
Beer Chand Patel Path,
Patna-800001.
Phone: 91-0612-2225411, 2210219, 2210242.
Fax: 91-0612-2236218.
Rooms available: AC Room, Non-AC Deluxe, Economy and Dormitory Beds.
Cinema Halls in Patna
Regent Cinema Patna
Regent Cinema is the best Cinema hall (Movie Theatre) in Patna Bihar to have a nice film watching experience with upto date technology and an environment to watch a film with whole family.
Back To BuddhaBihar Mennu Page