Rohtas District
Geography of Rohtas
Formation of Rohtas District 10th November 1972
Latitude:    24-30" to 25-20" (North)
Longitude:    83-14" to 83-20" (East)
Area:  3847.82       (Sq.Kms.)
Population: 24.44 lakh
Language: Bhojpuri, Hindi, English
Temperature Max 470C Min 40C
Height from Sea Level: 107.78 Meters
Boundarie
North :   Bhojpur & Buxar Districts 
South :   Plamu & Garwah District     
East:   Aurangabad & Part of Gaya District  
West:  Kaimur District
Geographically, this district is divided in two parts –
1.  Hilly Area  Comprise the plateau of Kaimur 
2. Plain Area   (Eastern side)   Watered by the mighty current of river SONE     
CLIMATIC CONDITION
The climate of the district is of moderately extreme type. It becomes quite hot during summer and fairly cool during the winter. January is the coldest month when the minimum temperature comes down to approximately 10 degree. Winter seasons starts form the month of November and last till February. The temperature begins to rise in March and it reaches the peak in the month of May when the mercury touches about 45 degree.
RAINFALL
Rain sets in some time in June and last till middle of September. There after the humidity begins to fall. The direction of the easterly wind from June to September. From October the direction of the winds is reversed and westerly wind blows till May. This district gets the maximum rainfall in month of July and August. There is slight rainfall in October, but November and December are quite dry. Some winter rain occurs in January and February. Normal rainfall 975 mm and average rainfall 952 mm.
Click on the Map of Rohtas to see the large View of Rohtas Map
>
Cuisine of RohtasCuisine of Rohtas
Places of interest in Rohtas
Rohtas Garh, Rohtas District
Rohtas is noble place in India. Rohtas Garh is one of the Vast, ancient and glorious fort. This fort is situated near river son in south-east on hill near Akbarpur at 1490ft high and extended in area of 45 km. Major Attractions are Rang Mahal, Shish Mahal, Panch Mahal, Khuta Mahal, Pool Mahal, Aaeena Mahal, Janana mahal, Eunuch quarter, Rani Ka Jharohka, mansingh ka baradari, Churashin, Fasi Gar etc with natural Beauty
It is situated 5 Kms. west of present block headquarter of Rohtas Block in Dehri Subdivision.It is said to be after the name of Rohitashwa the son of Raja Harishchandra Rohitshwa is said to have settled and built a fort here. However some local tribes say that Rohtas means dry land. Rohtas has a big fort. It was taken into possession by Sher Shah in 1538 A.D.It was the headquarter of Akbarpur, victory of the eastern provinces near the fort. There is a MAJAR (Grave) of Mohammedan saint named Sheikh Shah Babal (Pir).
One kilometer north of Rohtas Fort is Bawan Talab known for ancient temples. As the name indicates 52 ponds surrounded the village the good olden days. But there is no trace of them now. There is an ancient temple of Lord Shiva, locally known as the CHAURASAN MANDIR said to have been built by King Harishchandra.        
Tomb of Sher Shah:
Situated in the centre of a huge pond of dimension 345m X 263m. Tomb is octagonal in shape and having a fine architecture with 122ft high dome. A bridge is a link to go there, entrance gate has similar but small dome. Pond is surrounding with a garden that makes a beauty of tomb. There are many domes are attached to the tomb with different size.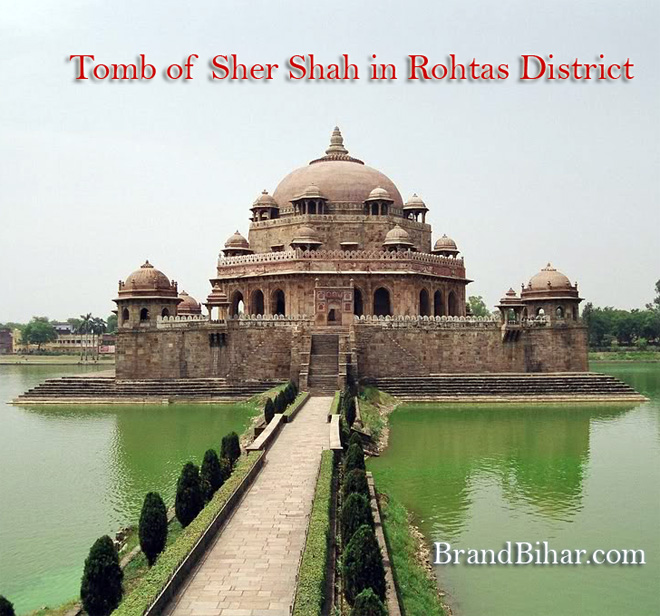 Tomb of Hasan Suri Khan
Situated 1 Km to the tomb of Sher Shah in east direction. There are grave of Hasan Suri Khan father of Sher Shah and his relative. A well Indo-Afghan Architecture with magnificent decorative and canopy. Right to this, a Baulia (small pond) was built. It is believe that it was bathing place for queens and ladies. It is famous as Sukha Rauja.
Tomb Salim Shah
Situated in the Takiya area in ruined and semi built tomb. Salim Shah was the son of Sher Shah.
Shergarh, Rohtas District
Shergarh Fort is extended in the perimeter of 10 Km on Kaimur hill in south-west from Sasaram in Chenari region. It is believed that fort was build by Sher Shah in between 1540 to 1545 after victory on Delhi for her Hindu beloved. There are many temples, grave, Emambara except fort. It was safe in view of security in fortification.         
Tarachandi Temple, Rohtas District
There is a temple of Goddess Tarachandi and small inscription of Pratap Dhawal on the rock close to the temple of Chandi Devi. Hindus in large number assemble to worship the goddess. It is believed that eye of Devi Sati was fallen here while her body was carried by Shiva by air route. After that this place is worship as Tatachandi Devi. Statues were in small cave. After development of this place it is not looking as a cave. Thousands of pilgrims come here in Nauratra days of Chitra, Sravan and Kartika.
 Gupta Dham Rohtas District
A natural build statue of Gupteshwarnath (i.e. lord Shiva) is available in 300m long cave. One has to cross seven times the river Durgawati to reach here. It is said that Lord Shiva hid himself from a devil Bhasmasur. When he determined to turn Shiva in to ash after getting bestowal from lord Shiva. Special day for here is Maha Shivratri and Basant Panchami.
Dhurwan Kund Rohtas District
 This is a attractive tourist and religious places it can be developed as beautiful natural site. This site is situated in the Chenari Block of Rotas District. 
Yakshini Mandir Bhaluni Dham, Rohtas District
Situated in Natwar of Vikramganj region. Also known as Bhaluni Dham. There is a famous temple of Goddess Durga, called "Yakshini Bhagwati ". The temple of Yakshini Devi is situated near the bank of a beautiful lake. The design and architecture of temple descript it as temple of 6th century. In local language Yakshini Devi is known as Jakhini Mai. On every Chitra Nauratra a fair is organized here.
Here is also an ancient temple of God "Shirac Bhankhandi Mahadevan " and situated 7 Kms east of Dinara Block in Bikramganj Sub Division. Large number of devotees assembled to worship the Goddess for benediction. 
Id –Gah , Rohtas District
Id-gah is situated in west side of Tomb of Sher Shah. It was built by Mujahidin Khan in 1633. This is important place for Tajiya celebration as a Tajiya Pahlam centre.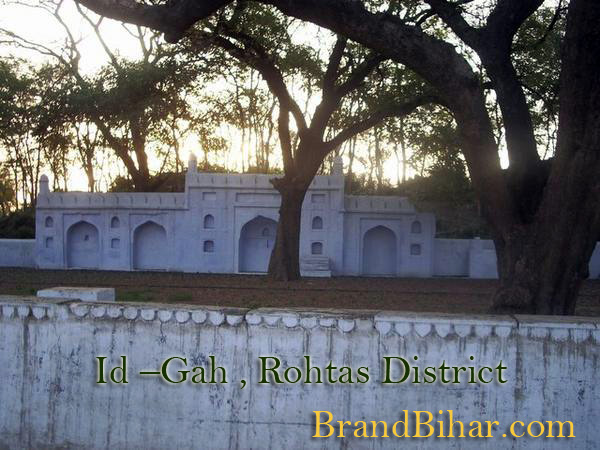 Naulakha Mandir, Rohtas District
Situated in Raipur Chor village of Shivsagar region. Three storied huge building was built in the memory of Swami Gyananand Jee. On the account of his birthday and Basant Panchami celebration is organized.
Chacha Falgumal Gurudwara, Rohtas District
Ninth Guru, Guruteg Bahadur with his wife Mata Gujari Devi stayed here. During that period Guru Govind Singh was in her womb. In their memory this Gurudwara was built.
Dharklandha, Rohtas District
There is a math of a saint "Dariyadas: This great figure is counted in the series of Kasir and Dadu. Probably he is the first saint poet of this district. He wrote many religious books are required in India. 
AKBARPUR, Rohtas District
 It is situated at the foot of Kaimur hills 5kms form Rohtas Garh. It is said to name after Mughal ruler Akbar. It is very near to the present block head quarters of Rohtas .It contains the tomb of Malik Wishal Khan, the daroga of Rohtas Garh during the reign of emperor Shahjahan.
AKHORIGOLA, Rohtas District
Weaving Industry   (Blanket),Cattle Fair    
DEHRI, Rohtas District
Industrial town of the District, Imp. Railway Junction, Headquarter of Police. 
DEO MARKANDEY, Rohtas District
Situated 18 Kms. East of Nasriganj in Bikramganj Subdivision .It is famous for temple of Lord Vishnu & Surya.
Rehal, Rohtas District
It lies in Rohtas Block & is situated at a height of 2400 ft. The village consists mostly of cheroo & kharwar tribes.
SASARAM, Rohtas District
Head quarter of Rohtas District as well as the Sadar Subdivision Sasaram, the municipal town is a place of historical importance.
The grand chort section of the eastern railway & Grand Trunk Road pass through it. There are several monuments nearby town. It is famous for the Tomb of Sher Shah build towards the middle of the sixteenth century. Hexagonal in shape & build of stone. It is the second heighest tomb in India situted in the middle of a big tank. It is a fine specimen of the pathan architecture & attracts tourists. The tomb of Hasan Khan Suri, father of Sher Shah is also located in the town. This tomb is also known as Sukha Roza.
The Ashok inscription at Chand-tan-pir on a hill near SASARAM is also of historical value.
Other visiting places are Tomb of Alaval Khan, Chandalan Shaheed Peer, Inscription of Ashok, Hathi Kua, Sarai, Badshahi Pool, Badrikashram, Tutla Bhawani, Dev Markandeya Mandir, Mahadeo Khoh, Mahabir Asthan, Taksal Sanghat, Guru Ka Bag, Nanakpura, Shahjalal Peer, MadarSalami Peer, Peer Khyali Khankah, church, Man Singh fort and many more.
Picnic spots in Rohtas District
Indrapuri Dam in Rohtas
Indrapuri is well- known picnic spot of our district. Dam is built on the river Son in Dehri-on-son. On each 1st January, many youngsters visit here and enjoy a lot with several activities. In this month, water of son decreases and some places are looking like island. People who visit in the month or day must take bath in river enjoy the day. Situation is just similar to Sun-bath near beaches. In thrilling rainy season, many families come with cooked food or come to cook food. They entertain the picnic in the sound of river with pleasing environment.
Tutrahi Waterfall in Rohtas
Tutrahi waterfall has a unique beauty and situated in Telauthu. Place is surrounded with hills in three sides as an arc of circle. The curve like structure results a moderate temperature in the area. This place very clam and pleasant. Stream falls at a height of 100m from the mid of the curve of hill and results as seasonal river. One remarkable thing is that monkeys and langoors are still survived there in large number.
Majhar Kund in Rohtas
Area is surrounded with tree and small thorny shrubs and situated near to Tarachandi on Kaimur plateau. As it is a water fall, so it is quite pleasant to visit here in rainy seasons. In the month of August, people visit here to enjoy the thrill of streams with bathing and cooking food. Dhua kund is close to it where stream falls at the height of 150m and it generate foam and smoke of water.
Other picnic spots are Anikat, Dhua Kund, Sita Kund, Hanuman Dhara, Chheriyahi, Karakat and many more.
Culture of Rohtas
Fair and Festivals in Rohtas
Tarachandi fair, Rohtas District
In campus of this temple fairs are organized in the Hindi month of Chaitra, Sravan, Kartika. Thousands of people participate in this fair.
Gupta Dham festivals, Rohtas District
Gupta Dham festival is celebrated on Basant Panchami and Maha Shivaratri.
Tilauthu Mela, Rohtas District
Tilauthu Mela is a complete fair of cattles. This fair is organized in the month of October-November for 1 month during Gaupastmi Puja and Kartik Purnima.
Karma festival, Rohtas District
This is celebrated by tribal groups in the month of August in the area of Rohtas fort. This festival is celebrated for 3-4 days with tribal culture. Tourism department has decided to turn this culture in the ROHTAS MAHOTSAVA.
Gita Ghat, Rohtas District
On the account of Guru Purnima, a fair is organized for 2 days where many people involved.
Tajiya celebration, Rohtas District
This festival is organized by Muslims and famous in Sasaram. During the Muharam festival, beautiful Tajiya is built of several designs. A large number of people of different district participate here.
Other fairs and festival are Bhaluni Dham Mela, Banka Mela, Karaghar Mela, Chandantan Peer Mela, Gaupastmi Mela and many more.
Events in Rohtas