Katihar District
Geography of Katihar
The district of Katihar is situated in the plains of North Eastern part of Bihar State, surrounded by Purnea district in the North and West Bhagalpur and Sahebganj district in the South and West Bengal in the East. It was one of the Subdivisions of the old Purnea district and was bifurcated as a separate district on 2nd October, 1973. This district has three Subdivisions – Katihar, Barsoi and Manihari and sixteen community development blocks. Katihar district is situated between Latitude 250 42' - 260 22' N and Longitude 870 10' - 880 05' E.
TOPOGRAPHY : 
The topography of the Katihar district has been very much affected by the floods of river Ganges, Mahananda and Koshi. The district has alluvial soil and due to deposit of sand-silt by rivers and soil in southern and the western part has become sandy. The land is slightly higher in the North and gradually slopping towards the South. The slop is gradual. There is no hill in the district except a small hillock in Manihari Block which is composed of nodular lime stone.
Click on the Map of Katihar to see the large View of Katihar Map
Culture of Katihar
Cuisine of Katihar
Places of interest in Katihar : Places to Must Visit In Katihar
Katihar tourism offers a unique amalgamation of religion, spirituality, history and culture. Katihar which is a beautiful tourist destination in Bihar. Its proximity to the Himalayas in the north, Jharkhand plateau in the south and the passage of Ganga flowing deep makes it a pleasant spot for tourists. Once famous for its Jute mills, this city has rich heritage and close links with the parent district of Purnia. Katihar Railway Station is one of the busiest railway stations in Eastern India which consists of 7 railway lines. Here is the list
Gorakhnath Temple : While visiting Gorakhnath Temple, you will find a herd of devotees who come here to offer their prayers to Lord Shiva. The idol of Lord Shiva, also known as Gorakhnath Mahadev, is adorned with flowers and ornaments inside the temple. One of the central attractions is the sight of Shivalinga. Shaivites visit this place on the occasion of Maha Shivratri to celebrate it.
Bagi Math : If you go to Bagi Math in Bagi village, you can feel the intense devotion, spirituality and faith of the people around. It is really amazing and can never be believed until and unless you come to this beautiful spiritual destination. It is known for its 108 rooms which are constructed for various spiritual activities. If you want to take a few days off to free your mind and enhance your spiritual levels, then it is the perfect destination for you.
Goga Lake: One of the largest wetlands of Bihar, Goga lake attracts a huge number of tourists. Its extent is 5 km by 1 km spread across 217 acres. Being directly linked to the Ganga and Mahananda, the lake links up to these rivers through tributaries during the peak rainy season. Many varieties of terrestrial, aquatic animals and rare birds flock to this place. With the rich flora and fauna, it has a potential to develop as national park. During monsoon and winters, almost 300 migratory birds come to the lake from places as far as Caspian Sea and Siberia. Efforts should be taken to declare and maintain it as a closed and protected area.
Kali Mandir : Kali Temple has got an immense historical importance. Dedicated to Goddess Kali, an embodiment of Goddess Durga, the idol of Kali is decorated beautifully inside the temple, which is a visual treat for the visitors. The attractive cravings on the walls show its archaeological importance. During festive times like Durgashtami and Diwali, a large number of devotees come for Puja celebrations in the temple.
Ramakrishna Mission Ashram : With a small and humble beginning in 1925, Ramakrishna Mission Ashram was created for providing relief to plague and malaria patients. After that, it gradually established itself in a small shrine. Over a period of nearly nine decades, this center has bloomed to be one of the most active centers of Ramakrishna Mission. Working in the spirit of "Service to Jiva as worship to Shiva", it expresses the principles of ancient Vedanta in the modern idiom. Devotees from various parts of the country come to this place.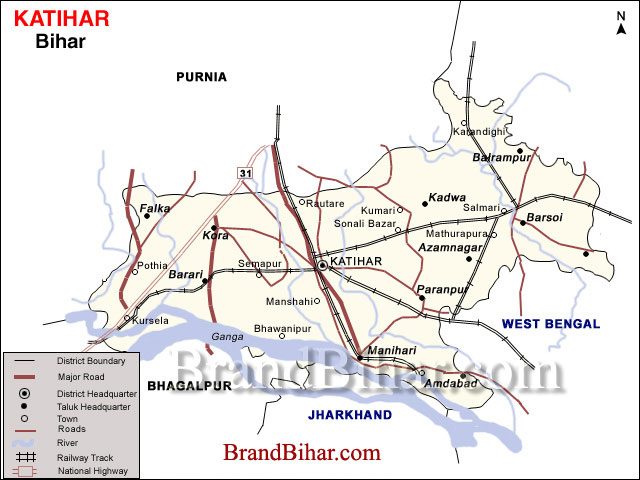 <
Events in Katihar