Darbhanga District, Bihar
Geography of Darbhanga, Bihar
Presently Darbhanga district is having the total geographical area of 2279 sq. km. and population of 2507815 according to 1991 census. It is situated between longitude 85 degree 45'- 86 degree 25' East and latitude 25 degree 53' - 26 degree 27' North and is bounded on the north by Madhubani district, on the south by Samastipur district, on the east by Saharsa district and on the west by Sitamarhi and Muzaffarpur districts.
The District of Darbhanga can be divided into four natural divisions. The eastern portion consisting of Ghanshyampur, Biraul and Kusheshwarsthan blocks contain fresh silt deposited by the Kosi River. This region was under the influence of Kosi floods till the construction of Kosi embankment in the Second Five Year Plan. It contains large tracts of sandy land covered with wild marsh.
The second division comprised of the anchals lying south of the Boorhi Gandak river and is the most fertile area in the district. It is also on higher level than the other part of the district and contains very few marshes. It is well suited to the rabbi crops.
The third natural region is the doab between the Burhi Gandak and Baghmati and consists of the low-lying areas dotted over by chaur and marshes. It gets floods every year.
The fourth division covers the Sadar sub-division of the district. This tract is watered by numerous streams and contains some up-lands.
The district has a vast alluvial plain devoid of any hills. There is a gentle slope from north to south with a depression on the centre. Numerous rivers originating in the Himalays water this district. Out of these rivers Kamla, Baghmati, Kosi and Kareh are of most importance.
The District has somewhat dry and healthy climate. There are three well-marked seasons, the winter, the summer & the Rainy season. The cold weather begins in November and continues up to February, though March is also somewhat cool. Westerly winds begin to blow in the second half of March and temperature rises considerably. May is the hottest month when the temperature goes up to 107 degree Fahrenheit. Rain sets in towards the middle of June. With the advent of the Rainy seasons, temperature falls and humidity rises. The moist heat of the Rainy season is very oppressive up to August .The rain continues till the middle of October. Average rainfall is 1142.3 mm. around 92% of rainfall is received during monsoon months.
Flora and Fauna
The land in Darbhanga District is generally very fertile and there are hardly and uncultivated areas. The district is, therefore, devoid of any forests. Among the trees found in the district are Sisam, Khair, Palmyra and Khajur. Mango, jackfruit, pipal and tamarind are found near village settlements. The district also has some tracts of grasslands.
Wild animals existed in the district up to the end of the 18th century. But with the progressive use of land and rapid growth of population, the forest areas were cleared and the wild animals became almost extinct. Wolves and hyenas are rare, while jackals are common. Fox and wild cats are also met with occasionally.
Among the birds found in the district are various kinds of quails, partridges and ducks, snipes, cranes, storks and sparrows are commonly seen. Fish are plentiful. The common varieties are Rohu, Bachwa, Tangra, Katla, Singhi and Boari. Hilsa is found only occasionally.
Culture of Darbhanga, Bihar
Languages and Religion
Main languages spoken in this district are: Maithili, Hindi and Urdu. Religion-wise breakup of population is indicated below as per 1991 census: Hindus : 19,55,068, Muslims : 5,55,429, Christians : 141, Sikhs : 198, Buddhists : 26, Jains : 27, Other religions and persuasions : 70.
 The following slogan is very famous about the Darbhanga Town:
Pag Pag Pokhair Pan Makhan,

Saras Bol Muski Muskan

Bidya Baibhav Santi Pratik

Lalit Nagar Darbhanga Thik
Fair and Festivals
Important fairs and melas organised in various parts of the district are namely: Kartik Purnima mela, Dussehra mela, Janmastami mela and Divali mela.
Folk Arts
It is characterized by the line drawings, which is to be filled in by bright colours and contrast or pattern. The painting ado med wall and verandahs and were constantly changing or renewed depending on the celebrations, God, ceremonies and family events. Some of them is as follows:
SUJNI:
The first mention of crafts similar to "sujni" comes in the description of bedspreads and wall hanging. It is popular as Sujni.
SIKKI:
It is the grass article, which made by the women of North Bihar particularly of the Darbhanga district. Sikki seems to grow anywhere in this area . It is tall and rush with a lovely golden shade and most attractive. The coiling technique, which is the oldest, used in Sikki. The common long grass is wired and stitched together with the sikki dyes in several shaded using a needle called Takua.
WOOD INLAY:
It is one of the Darbhanga art. The inlay continues to be done with different materials like metal, ivory, etc. and stage chips of woods in other grains or tints are used to get varied effects to great advantage.
MITHILA PAINTINGS
It is prepared with the primary colours of natural origin on paper and cloth. It is also used on the occasion of mythological and religious events.
Cuisine of Darbhanga, Bihar
Places of interest in Darbhanga, Bihar
Tourist Spots in Darbhanga
Ahilya Asthan
It is famous historical temple, situated about 3 Kms. South of Kamtaul Railway Station in Jale Block. This place is known as Ahilya gram. There is a well known in the Ramayan about Ahilya. According to Ramayan when Lord Ram was his way to Janakpur his feet touched a stone and it turned into a woman who was non-else but Ahilya. Her husband Gautam Rishi cursed the Ahilya to fun into stone. The temple is dedicated to Ahalya, wife of Gautam Rishi. Large fairs are held every year on the occasion of Ramnavami in the Hindi month of Chaitra and Vivah Panchami in Agrahayan. There are various other temples and mosques in the village.
Brahmpur
The village is situated about 8 kms. away from Kamtaul and 19 kms. south east of Jogiara. The village is noted for the Gautam Kund and a temple of Gautam Rishi, which are located very close to it. According to the Puranic tradition Lord Brahma appeared before Gautam Rishi at this place after the chastity of his wife, Lord Indra and Chandrama had violated Ahalya. The village derives its name from this occurrence. In regard to the Gautam Kund, it is believed that God Brahma himself created the tank by piercing the earth with seven arrows, so that Gautam might not have to travel a long distance for bathing in the Ganga. Kamtaul. The village is a rail head in Jale block. The village has a Khadi Gamodyaog centre and a Khadi store. It is the rail head for visitors to Ahalyasthan and Gautamsthan.
Chhaprar
The village is situated in Bahadurpur block, at a distance of about 10 Kms. from District Headquarter. It has a temple of Lord Mahadeva on the bank of the Kamla River around which fairs are held on the occasion of Kartik and Maghi Purnima.
Dekulldham. The village falls in Biraul block and is noted for is large temple of Lord Shiva. Devotees congregate here every Sunday. A large annual fair is held on the occasion of Shivaratri.
Kusheshwar-asthan
It is an important religious place, situated about 16 Kms. east of Singhia and 22 Kms. northeast of Hasanpur Road railway station on the Samastipur, Khagaria Branch line of North Eastern Railway. It is noted for the temple of Lord Shiva known as Kusheshwarasthan. Pligrims visit this place all the year round for worship. The origin of this temple is traced to the epic period.
The water logged fourteen villages of Kuseshwarasthan block covering an area of 7019 acres and 75 decimals, due to their greater ecological, faunal, floral, geomorphological and natural importance has already been declared as Kuseshwarasthan Bird Sanctuary under Wild Life Protection Act 1972 (as amended upto 1991). The following table shows the names and status of some important migratory birds seen in Kusheshwarasthan Bird Santuary and their native countries.
Important Migratory Birds seen in Kusheshwarasthan Bird Sanctuary :
1. Dalmatian pelican (Pelicanus erisups)
Endangered, International Council of Bird Preservation (ICBP), Bird Red Data Book estimates only 665-1000 pairs in the world.
2. Indian darter (Anlinga rufa)
Species in fered to decreasing all over the country.
3. Bar-headed goose
A threatened species due to hunting, egg collecting, habitat loss.
4. White winged wood duck (Cairiva scutulata)
Included in ICBP Red Data Book. Threatened by hunting and habitat loss
5. Marbled teal (Marmaronetta anqustirostris)
Listed in Red Data Book V
6. Baers Pochad (Aythya baeri)
Listed in Red Data Book V. Threatened by hunting and habitat loss . Due to wellenddrainage for agriculture.
7. Siberian Crane (Grus leuogranus)
Western population of this species is on the verge of extinction. About 2000 birds exist in eastern population.
8. Indian Skimmer (Rynchops albicollis)
Comes to wetland plains of India during winter from Bangladesh.
Native Countries of Migratory Birds :Nepal, Tibet, Bhutan, Afghanistan, China, Pakistan, Mongolia & Siberia and others.
KUSHESHWARASTHAN BIRD SANCTUARY AREA
Wet land areas of Darbhanga district in general and Kusheshwarasthan block (Biraul Sub-division) in particular is the winter capital of approximately 15 rare and endangered species of migratory birds. The winged guests coming from over eight countries swarm the vast water bodies spread across 8,100 hectares during November and March.
Location: Longitude: 85 degree 40' -86 degree 25' East, Latitude: 25 degree 53' - 26 degree 27' North
Height from sea level: 49 meters.
Approx 45 Kms East of Darbhanga Town.
Santuary Area: 6700 hects Chour Area, 1400 hects of Low land area. No. of Ponds/Chours - 202 govt. 412 Private.
Name of Birds
Local Name:- Lalshar, Dighouch, Mail, Nakta, Gairi*, Gagan*, Silli, Adhani, Harial, Chaha, Karan, Ratwa, Gaiber (White and Black)
Biological Names:- Dalmation pelican, Anlinga   rufa (Indian  darter) Barheadedgoose, Cariva Scutulata, (White wing wood duck), Marmaroneta (Marbled teal), Baers Pochad, Sibrian Crain, Indian Skimmer, Oriental Goosanderek. (* Rarely Seen)
Mahinam-Mahadeo-sthan
It is temple of Lord Shiva situated at a distance of about 5 Kms. from the Darbhanga-Biraul pucca road. Large annual fairs are held here on the occasion of Kartik and Maghi Purnima.
Makranda
Situated about 5 Kms. south of Manigachhi railway station, the village is known for its old temple called Baneshwaristhan.
Newri
The village likes about 13 Kms. west of the block head quarters at Biraul and contains the remains of an ancient fortress associated with Raja Lorick.
Nawadah Durga-sthan
It is famous temple of Goddess Durga Located on the Majkora Nawadah Road. The place is visited by hundreds of devotee's everyday. The Dussehra festival is celebrated here with great enthusiasm.
Raghopur
The village is situated about 5 Kms. south of Sakri railway station. It is noted for its earthen mound, known as Sheosingh-garh, which is believed to cover the ruins of a building, built by Raja Shiva Singh.
Shyama Temple
Shyama Temple is just one KM west of Darbhanga Railway Station. It is situated in the picturesque and peerless Lalit Narayan Mithila University. In fact it is private graveyard of Darbhanga Raj Royal family and temples have been build upon the graveyard of the ancestors of the Royal family. Shyama Temple is one of them. It was built in 1933. A huge statue of Goddess Kali is enshrined in this temple. This temple is famous not only for its grand our beauty and lively men but also for the faith that people here get there in desire fulfilled if they worship with holy heart.
Sati Asthan
Sati Asthan is situated in the famous graveyard of Subhankarpur, which is about one km west of Darbhanga Maharaji bridge. Maharaj Rameshwar Singh who was also a great Tantrik used to visit here daily in mid night for his Tantra Sidhi. Late Pandit Harinandan Mishra father of Late Lalit Narayan Mishra, Ex, Railway Minister, Government of India, also held in this premises. Now a days people use to visit this place on every Monday and Friday.
Manokamna Temple
Manokamana Temple is situated in the University Campus just beside Nargauna Palace. This temple has constructed with the Marvel. In fact it is a Hanuman temple where a little but most beautiful statue of Hanuman is build of marvel. A lot of crowd came to visit this place every day.
Malechchhed Mardini temple is one km south west of Darbhanga Railway station. It is temple of the Godden who destroy the faints. This temple is of utmost importance for Shakti people.
Kankali Temple
Kankali temple is two km north west of Darbhanga Railway station in the premises of Qila of Darbhanga Mahraj. This temple is of utmost importance for Shakti people.
Catholic Church
Established in 1891, it is at a distance of just one km form the Darbhanga Railway Station. Though the original building was damaged by the earthquake of 1897, later on it was reconstructed. The church is also known by the name Holy Rosary Church. Every Friday one can witness a large gathering at this place. Like other churches, here also, Christmas is celebrated with much enthusiasm between 25th-31st December and there is also Anand Mela on 7th October every year which is open to participation by public. The picture given below shows this church.
Bhikha Salami Majar
It is situated at one km southeast from Darbhanga Railway station on the bank of Gangasagar pond. A fair is to be organized between 12th and 16th day during the Ramzan.
Masjid at Darbhanga Tower
It is situated at two km west from the Darbhanga Railway Station and just neat at Darbhanga Tower. It is the most attractive and religious place for the Islam religion. A crowd people are assembled on every Friday for pray their Namaj.
The Mazar of Makhdoom Baba
It is situated at two km northwest from Darbhanga Railway Station and just between the both universities. It is the very popular secularism place. Here daily people from Islam religion as well as Hindu religion assemble for offering their prayers.
Maharaja Laxmiswar Singh Museum
Maharaja Laxmiswar Singh Museum was established on 16th September 1977. It is situated just west south of Darbhanga Railway Station. This Museum can be visited every day except Monday. Its opening and closing time is 10.00 AM and r.30 PM respectively. There is no entry fee.
History
Royal family of Darbhanga is well known for its love and affection with art and culture. Prince Subheshwar Singh gifted the invaluable and immemorial items and Durlabh Kalakritiya in order to establish this museum. The then District Magistrate of Darbhanga Shree Ramashankar Tiwari had also played an important role in the establishment of this museum. This unique museum is situated on the eastern bank of Mansarover Lake.
There is rare collection of a number of objects and weapons made of Gold, Silver, Tusker teeth all collection has been scientifically organized and placed into eight different chambers.
Hall Number 1: This hall is known as Raj Singhasan Kash. Royal throne of Maharaj Rameshwar singh jee has been placd in this Hall. This throne is symbol of Power, wealth and dignity of the royal family. It is made of gold, silver and precious stones. Besides royal throne, silver made Palang(BED), Nalki and a number of other such items has also been placed in this hall which are pleasant memory of yester years of royal family. Royal throne and Silver Bed are unique examples of Sculptural excellence.
On the basis of design and decoration the Royal throne can be divided into five parts.
It is made of wood, which is square in shape. The beauty of this part is pasting of flowers leaves and its finder brines made of ivory. The shape and size of this flower and leaves are so accurate that it looks like natural.
Just above it there is a six-inch plate of silver all round the throne elephants of small size are shown on it. Although it is small in size but very natural in its look.
Just above silver plate there are elephants an each corner of the throne at the distance of two feets. There are hole in the back of these elephants. Most probably silver rod would have been used to decorate the throne as per desire.
All round he throne there are square gold and silver plates a which various types of animals has been shown in their different natural possess. Group of elephants playing in water, roaring lions, Panther climbing on the tree. Fighting bull and running deer are some of them.
Precious stones were presented at every angles of the throne. The monogram of royal family FISH is in the middle of the throne.
Hall Number 2: Hall of Metallic artifacts: A number of attractive artifacts have shown in this hall and among these unique globe made of copper and circular shield are can be of attraction. In these two artifacts important events of Ramayana, Mahabharata and Krishna-Leela has been reflected.
Hall Number 3: Hall of stone idols and artifacts:
Statue made of marble and other stone made artifacts have been shown in his hall. A circular table made of a single piece of marble is treat to watch. A number of women have been inscribed one it in Greek - style. The clothes hair and physique of there women reflects the clear impact of greekan style. Just like greekan style the clothes are transparent and its fold are such that it seems it has been blown up by air. The curly hair looks very natural.
Hall Number 4 & 5: Ivory Hall. There is a unique collection of the artifacts made of ivory. Mat, Net, flowers, leaves and a lot of other things, made of ivory, are just superb in its presentation. A spulse made of ivory is so lively that visitors get mazes after seeing it. Beside this Ivory mad lions and sofa-set also attract the visitors very much.
Hall Number 6: Hall of weapons. Weapons of the various kings have been shown in this hall.
Hall Number 7 & 8: Hall of wooden artifacts. These two halls painting wooden artifacts have been shown in so natural that it works like metal.
Chandradhari Museum, Darbhanga
This museum was established on 7 December 1957 on the north  bank of Mansarowar Lake. Late Chandradhari Singh of Ranti Dyordhi (Madhubani) donated all the artifact and other rare objects. It was shifted in double story building in 1974. There is no entry fee for visiting the Museum. It remains open for public on everyday except Monday. On the basis of arrangement and materials of the Museum it can be devided into eleven type of Halls.
Aims of the Museum 
To collect, to preserve and to display the artifacts of historical, archaeological and cultural importance of the region in the public interest as well as to  educate the students through the exhibited materials.
Galleries
On the basis of arrangement and materials of the Museum, it is divided into eleven gallery. Short description of same very important gallery are below:-
Glass Gallery  In this gallery beautiful objects of Baljium cutting glass are displayed.
Textile Gallery Traditional dress of Mithila as well as dress of Royal family have been shown in this Gallery.
Miniature Painting Gallery 
In this gallery rare miniature paintings of different styple and school are displayed. Among these the paintings of Krishna leela with Gopies, based on Geet Govind of Jaidev are peerless. Besides this the miniature paintings of Mughal Kings and their queens in Mughal style are also of much importance.
Modern Paintings
Water colour paintings of modern style based on Ramayan and Mahabharta theme such as "Raja Janak Darbar" and "Mahabharta War" can be seen here.
Stone Sculpture Gallery
Sculptures in black Basalt stone of Hindu and Buddha religion have been shown in this gallery. Most of the sculpture belongs to the 8th & 9th century A.D.
Wood Gallery
Various types of wood objects having floweral design and inlay work are displayed in this gallery.
Mother of Pearls Gallery
In this gallery several types of beautiful exhibit made art of mother of pearls can be seen. A replica of Taj Mahal, made of mother of perals on a single piece of tuch stone is an unique one.
Natural History Gallery
Royal Bengal Tiger, Leopard, Bear and different types of horns of deer have been displayed in this gallery.
Ivory Gallery
Various types of beautiful icons and objects of ivory are displayed in this gallery.
Brass Gallery
Statues in brass, brought from Rajnagar of Madhubani District have been shown in this gallery. These statues are of Nepalese and Tibetan style.
Special Gallery
Eak mukhi Rudraksha Garlands of semi preceious stones, Mico paintings, Ancient and Modern Coins Flowers pots of Zade stone, Ivory etc are beautifully arranged and displayed.
Strong Room
In this room ring of preceious stones, Gold coins, Pancha Janya Sankh, Dakshina Vartaya sonkh, Shree chakra etc are will preserved.
Library
This museum has its own small library, having different types of historical and cultural books along with same manuscripts.
Quila of Darbhanga Maharaj
The town is noted for its trade in fish, mango and makhana. Among its educational institution are Chandradhari Mithila College, the Medical College, the Women's College, The Engineering School and various other institutions.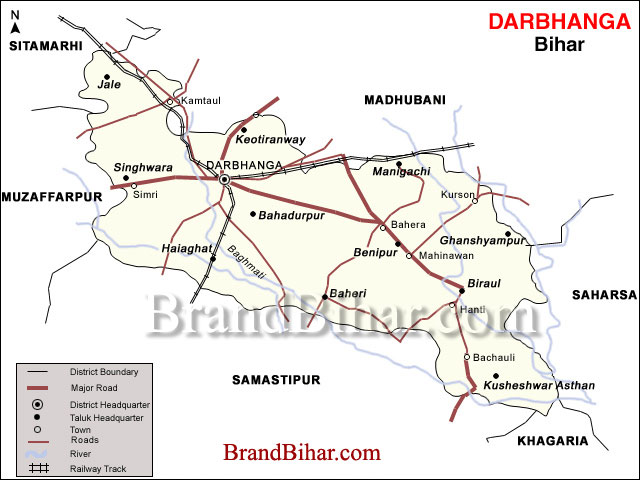 Events in Darbhanga, Bihar