Bharat Ratna Award
Bharat Ratna Award
'Bharat Ratna', the highest civilian Award of the country, was instituted in the year 1954. India has produced a legacy of brave hearts since times immemorial. Probably there is not enough space to measure their sacrifices. However, we cannot close our eyes to those people who have made our country proud by excelling in their own fields and bringing us international recognition Bharat Ratna is the highest civilian honour, given for exceptional service towards advancement of Art, Literature and Science, and in recognition of Public Service of the highest order.
Any person without distinction of race, occupation, position or sex is eligible for these awards. It is awarded in recognition of exceptional service/performance of the highest order in any field of human endeavour. The recommendations for Bharat Ratna are made by the Prime Minister himself to the President. No formal recommendations for this are necessary. The number of annual awards is restricted to a maximum of three in a particular year. On conferment of the award, the recipient receives a Sanad (certificate) signed by the President and a medallion. The Award does not carry any monetary grant. In terms of Article 18 (1) of the Constitution, the award cannot be used as a prefix or suffix to the recipient's name. However, should an award winner consider it necessary, he/she may use the following expression in their biodata/letterhead/visiting card etc. to indicate that he/she is a recipient of the award: 'Awarded Bharat Ratna by the President' or
'Recipient of Bharat Ratna Award'.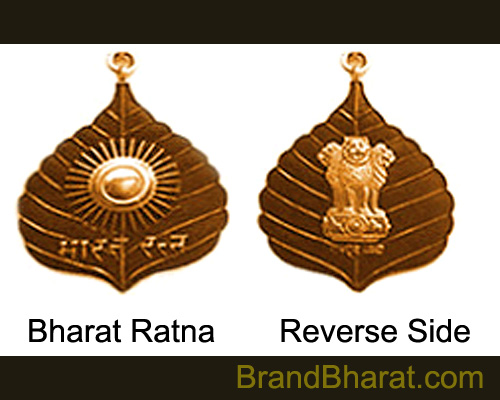 The original specifications for the award called for a circular gold medal, 35 mm in diameter, with the sun and the Hindi legend "Bharat Ratna" above and a floral wreath below. The reverse was to carry the state emblem and motto. It was to be worn around the neck from a white ribbon. This design was altered after a year.
The provision of Bharat Ratna was introduced in 1954. The first ever Indian to receive this award was the famous scientist, Chandrasekhara Venkata Raman. Since then, many dignitaries, each a whiz in varied aspects of their career has received this coveted award.
In fact, our former President, Shri A. P. J Abdul Kalam is also a recipient of this esteemed honour (1997). There is no written provision that Bharat Ratna should be awarded to Indian citizens only. The award has been awarded to a naturalized Indian citizen, Agnes Gonxha Bojaxhiu, better known as Mother Teresa (1980) and to two non-Indians – Khan Abdul Ghaffar Khan and Nelson Mandela (1990). It is also not mandatory that Bharat Ratna be awarded every year. The last time this award was given was in 2008, to Pandit Bhimsen Gururaj Joshi.
भारत रत्‍न सम्‍मान भारत में अन्‍नत काल से बहादुरी की अनेक गाथाओं को जन्‍म दिया है। संभवत: उनके बलिदानों को मापने का कोई पैमाना नहीं है, यद्यपि हम उन लोगों से भी अपनी आंखें फेर नहीं सकते जिन्‍होंने अपने-अपने क्षेत्रों में उत्‍कृ‍ष्‍टता प्राप्‍त कर हमारे देश का गौरव बढ़ाया है और हमें अंतरराष्‍ट्रीय मान्‍यता दिलाई है। भारत रत्‍न हमारे देश का उच्‍चतम नागरिक सम्‍मान है, जो कला, साहित्‍य और विज्ञान के क्षेत्र में असाधारण सेवा के लिए तथा उच्‍चतम स्‍तर की लोक सेवा को मान्‍यता देने के लिए प्रदान किया जाता है।
इस पुरस्‍कार के रूप में दिए जाने वाले सम्‍मान की मूल विशिष्टि में 35 मिलिमीटर व्‍यास वाला गोलाकार स्‍वर्ण पदक, जिस पर सूर्य और ऊपर हिन्‍दी भाषा में ''भारत रत्‍न'' तथा नीचे एक फूलों का गुलदस्‍ता बना होता है पीछे की ओर शासकीय संकेत और आदर्श-वाक्‍य लिखा होता है। इसे सफेद फीते में डालकर गले में पहनाया जाता है। एक वर्ष बाद इस डिजाइन को बदल दिया गया था।
भारत रत्‍न पुरस्‍कार की परम्‍परा 1954 में शुरु हुई थी। सबसे पहला पुरस्‍कार प्रसिद्ध वैज्ञानिक चंद्र शेखर वेंकटरमन को दिया गया था। तब से अनेक विशिष्‍ट जनों को अपने-अपने क्षेत्र में उत्‍कृष्‍टता पाने के लिए यह पुरस्‍कार प्रस्‍तुत किया गया है। वास्‍तव में हमारे पूर्व राष्‍ट्रपति, डॉ. ए. पी. जे. अब्‍दुल कलाम को भी यह प्रतिष्ठित पुरस्‍कार दिया गया है (1997)। इसका कोई लिखित प्रावधान नहीं है कि भारत रत्‍न केवल भारतीय नागरिकों को ही दिया जाए। यह पुरस्‍कार स्‍वाभाविक रूप से भारतीय नागरिक बन चुकी एग्‍नेस गोंखा बोजाखियू, जिन्‍हें हम मदर टेरेसा के नाम से जानते है और दो अन्‍य गैर-भारतीय - खान अब्‍दुल गफ्फार खान और नेल्‍सन मंडेला (1990)। यह भी अनिवार्य नहीं है कि भारत रत्‍न सम्‍मान हर वर्ष दिया जाए। पिछली बार यह सम्‍मान वर्ष 2008 में पंडित भीमसेन गुरूराज जोशी।
1. Shri Chakravarti Rajagopalachari (1878-1972) - Awarded in Year 1954
2. Dr. Sarvapali Radhakrishnan (1888-1975) - Awarded in Year 1954
3. Dr. Chandrasekhara Venkata Raman (1888-1970) - Awarded in Year 1954
4. Dr. Bhagwan Das (1869-1958) - Awarded in Year 1955
5. Dr. Mokshagundam Visvesvaraya (1861-1962) - Awarded in Year 1955
6. Pt. Jawaharlal Nehru (1889 -1964) - Awarded in Year 1955
7. Pt. Govind Ballabh Pant (1887-1961) - Awarded in Year 1957
8. Dr. Dhondo Keshave Karve (1858-1962) - Awarded in Year 1958
9. Dr. Bidhan Chandra Roy (1882-1962) - Awarded in Year 1961
10. Shri Purushottam Das Tandon (1882-1962) - Awarded in Year 1961
11. Dr. Rajendra Prasad (1884-1963) - Awarded in Year 1962
12. Dr. Zakir Hussain (1897-1969) - Awarded in Year 1963
13. Dr. Pandurang Vaman Kane (1880-1972) - Awarded in Year 1963
14. Shri Lal Bahadur Shastri (Posthumous) (1904-1966) - Awarded in Year 1966
15. Smt. Indira Gandhi (1917-1984) - Awarded in Year 1971
16. Shri Varahagiri Venkata Giri (1894-1980) - Awarded in Year 1975
17. Shri Kumaraswami Kamraj (Posthumous) (1903-1975) - Awarded in Year 1976
18. Mother Mary Taresa Bojaxhiu (Mother Teresa) (1910- 1997) - Awarded in Year 1980
19. Shri Acharya Vinobha Bhave (Posthumous) (1895-1982) - Awarded in Year 1983
20. Khan Abdul Ghaffar Khan (1890-1988) - Awarded in Year 1987
21. Shri Marudu Gopalan Ramachandran (Posthumous) (1917-1987) - Awarded in Year 1988
22. Dr. Bhim Rao Ramji Ambedkar (Posthumous) (1891-1956) - Awarded in Year 1990
23. Dr. Nelson Rolihlahla Mandela (b-1918) - Awarded in Year 1990
24. Shri Rajiv Gandhi (Posthumous) (1944-1991) - Awarded in Year 1991
25. Sardar Vallabhbhai Patel (Posthumous) (1875-1950) - Awarded in Year 1991
26. Shri Morarji Ranchhodji Desai (1896-1995) - Awarded in Year 1991
27. Maulana Abul Kalam Azad (Posthumous) (1888-1958) - Awarded in Year 1992
28. Shri Jehangir Ratanji Dadabhai Tata (1904-1993) - Awarded in Year 1992
29. Shri Satyajit Ray (1922-1992) - Awarded in Year 1992
30. Shri Gulzarilal Nanda (1898-1998) - Awarded in Year 1997
31. Smt. Aruna Asaf Ali (Posthumous) (1909-1996) - Awarded in Year 1997
32. Dr. A.P.J. Abdul Kalam (b-1931) - Awarded in Year 1997
33. Smt. Madurai Sanmukhavadivu Subbulakshmi (1916- 2005) - Awarded in Year 1998
34. Shri Chidambaram Subramniam (1910-2000) - Awarded in Year 1998
35. Loknayak Jayaprakash Narayan (Posthumous) (1902- 1979) - Awarded in Year 1999
36. Professor Amartya Sen (b-1933) - Awarded in Year 1999
37. Lokpriya Gopinath Bordoloi (Posthumous) - Awarded in Year 1999
38. Pandit Ravi Shankar (b-1920) - Awarded in Year 1999
39. Sushri Lata Dinanath Mangeshkar (b-1929) - Awarded in Year 2001
40. Ustad Bismillah Khan (1916-2006) - Awarded in Year 2001
41. Pandit Bhimsen Gururaj Joshi (1922-2011) - Awarded in Year 2009