Kanpur Dehat District, Uttar Pradesh
Geography of Kanpur Dehat, Uttar Pradesh
Kanpur Dehat is surrounded by districts Kanpur-Nagar, Hamirpur, Jalaun, Etawah, Kannauj. River Yamuna divides Kanpur Dehat & Jalaun.
Geographic Features
Geographic Features : 26N to 25 55'N latitude : 79"30'E to 80"E Longitude
River Yamuna divides Kanpur Dehat and Jalaun.
Area of 3021 Sq.Kms.
Rivers in Kanpur Dehat -> Isan, 16 Kms;Southern None,26; Northern None, 55 Kms;Sengur, 63 Kms;Pandu, 30 Kms; Rind, 115 Kms.
Kanpur Dehat physical parameters are
Longitude - 26 degree 20 minutes & 38 Seconds.
Latitude - 79 degree 58 minutes & 2 Seconds.
AMSL - 471 feets

Rmabai Nagar has a population of 15.63 lakhs (as per 2001 census) out of which females are 7.18 lakh and males are 8.44 lakh. The ratio between males and females is 1000 : 852, while this ratio at state level is 1000:879. Rural population outweighs urban population. Only 107767 persons stay in towns. The population of Scheduled Caste persons in the district is 24.8%. The population of Scheduled Tribes is negligible. Total number of ST persons in the district is 382. The demographic characteristics of Kanpur Dehat district are given in the following table: Demographic Characteristics of Kanpur Dehat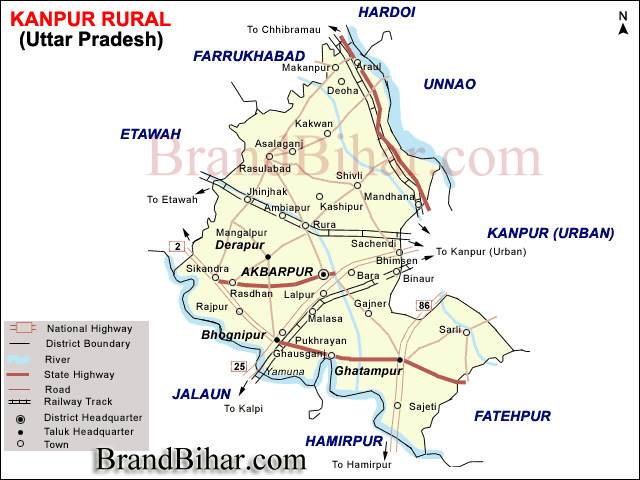 Transport -
The district is well connected by railways. Three rail tracks run through Kanpur Dehat district. The railway route connecting Delhi to Hawrah belonging to North Central zone of Indian Railways is passing through centre of the district. This railway track is broad gauge and fully electrified. The railway stations falling in this route through the district are Bhaupur, Maitha, Roshan Mau Halt, Rura, Ambiyapur, Jhinjhak and Parjani Halt. The second track is KANPUR to JHANSI railway line. The railway stations on this route are Binaur, Rasulpur Gogumau, Tilaunchi, Paman, Lalpur, Malasa, Pukhrayan and Chaunrah. This railway track is broad gauge and non-electrified also belongs to North Central zone.electrification work is DONE and now it is being used as electrical rail route. The third railway line which until recently was narrow gauge but has now been converted into broad gauge belongs to North Eastern Railway zone. The track runs parallel to river Ganges. This track is also non-electrified but from kanpur central to kalyanpur station electricfication work is on and it may be compleated by the end of year 2013. The root of bus from Delhi to Kanpur Dehat as Rasulabad.Nar khurd .Chaubepur shivrajpur,billore towards district KANNAUJ the city of FRAGRANT. The chaturbhuj four lane road is also existed in the most of part kanpur dehat mostly towards kanpur jhanshi and kapur etawah.
Culture of Kanpur Dehat, Uttar Pradesh
FAIRS AND FESTIVALS
Phoolmati Devi, Singh Bhawani, Deviji, Barahin Devi, Jagdishpur Mela
Shitla Devi, Jeth Dussehra, Khareshwar, Deviji, Ram Lila, Krishna Lila
Mahabirji, Maghi Mela, Shankarji-ka-Mela, Shivratri, Madar Saheb-ka-Mela
Deviji, Cattle-fair, Dussehra, Kartika Purnima, Basant Panchmi, Durvasa Rishi
Purchanda Devi, Rathyatra, Durga Devi, Janam Ashtmi, Kans Lila, Baba fair
Nagelin Devi, Khurha Devi, Durga Devi, Kans Lila, Ashtmi fair, Urs.
Cuisine of Kanpur Dehat, Uttar Pradesh
Places of interest in Kanpur Dehat, Uttar Pradesh
Since Mughal road (Grand Trunk Road) passes through it, there are many Kos Minar in the district. Some of them are protected monuments, notable of them are at Bhognipur, Chapar Ghata, Deosar, Gaur, Halia, Jallapur Sikandara, Pailwaru, Pitampur, Raigawan, Rajpur, Sankhiln Buzurg, Sardarpur.
Events in Kanpur Dehat, Uttar Pradesh