Chitrakoot District, Uttar Pradesh
Geography of Chitrakoot, Uttar Pradesh
Chitrakoot, "the hills of many wonders" is indeed a gift of nature and the gods. Chitrakoot falls in the northern Vindhya range of mountains spread over the states of Uttar Pradesh and Madhya Pradesh. Chitrakoot district in Uttar Pradesh was created on 4 September 1998. Chitrakoot Parvat Mala includes Kamad Giri, Hanumaan Dhara, Janki Kund, Lakshman pahari, and Devangana famous Religious mountains.
Chitrakoot is located in the Banda district of modern Uttar Pradesh(U.P), on the banks of river Paisuni(Mandikini), Chitrakoot is a tranquil retreat on the northern spur of the Vindhyas. Just 6 km south of Karvi and 72 km south east of Banda district on the road to Allahabad, Chitrakoot Dham is one of the most ancient holy pilgrim places of India. Legends have it that it was the abode of Lord Rama, his wife Sita and brother Lakshman for eleven years of their fourteen years of exile. This is also the place,where they came in contact with sage Atri and sati Anasuya.This abode of the gods is credited to have seen the incarnations of Brahma,Vishnu and Mahesh. Chitrakoot ,sacred with the touch of Lord's feet,was where Goswami Tulsidas, the creator of the epic "Shri Ramcharitmanas" spent many years of his life. Dotted with innumerable temples and shrines, nature's splendor here is wrapped in peace and tranquility, permeated only by singing birds and gushing streams.
Geographical Location of Chitrakoot District
District Chitrakoot lies between Lat. 24 0 48 ' to 25 0 12 ' N and Lang. 80 0 58 ' to 81 0 34 ' E.

Distance Covered by district from East to West is 62 Km. & North to South is 57.5 Km.

District is bounded in the North by Kaushambi, in the South by Satna(M.P.) Rewa (M.P.) , in the East by Allahabad (PrayagRaj), in the West by Banda.

District is Linked with Roadways to all adjoining districts of Banda, Allahabad,Satna, Rewa & Kaushambi.

Area of District is 345291 Sq. Kilometer.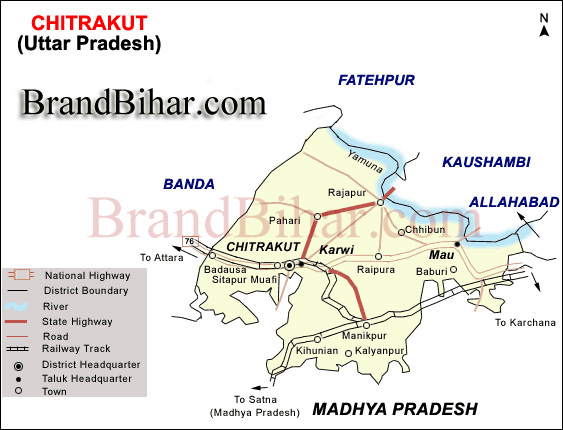 Local Transport : Cycle Rickshaw during fairs and festivals, taxis also ply between Chitrakoot, Rajapur and Karwi.
Allahabad(Prayag Raj) 125 Km, Khajuraho 200 Km, Varanasi 280 Km, Delhi 670 Km, Lucknow 285 Km, Kanpur 205 Km.
RAILWAYS FACILITIES for Chitrakoot -
Main Railway station is situated at Karwi, This is connected by all famous cities with Railway track.
Main Railway Route from Chitrakoot is as follows :
From Chitrakoot to Hajrat Nizamuddin (N. Delhi) via Banda.
From Chitrakoot to Lucknow via Banda.
From Chitrakoot to Allahabad, Mughal Sarai, Hawraha via Manikpur.
From Chitrakoot to Varanasi via Manikpur.
From Chitrakoot to Kurla (Mumbai) via Jhansi.
ROADWAYS FACILITIES -.
Chitrakoot District is connected by all famous cities with National Highway & other road track.
Main Roadways Route from Chitrakoot is as follows :
From Chitrakoot to Mirzapur via Allahabad.
From Chitrakoot to Banda, Kanpur & Lucknow.
From Chitrakoot to Rajapur.
From Chitrakoot to Sagar via Mahoba.
From Chitrakoot to Panna via Attra & Naraini.
Rivers in Chitrakoot District
The important rivers of district Chitrakoot are:
Yamuna River
Mandakini(Paishwani) River
Gunta River
Bagein River
Ohan/Balmiki River
Bardaha River
Soil in Chitrakoot District
There are mainly five types of Soil in the district, which are following as:
Kankirili Soil
Kabar Soil
Balui Soil
Rakad Soil
Padua Soil
AGRICULTURE in Chitrakoot District
Mostly people are depends on farming, there are three types of crops, which are as follows :
Khariff : In this period, Main production of Agriculture goods like Dhan,Urd, Macca, Jawar, Bajra,Til, Moung,Reuncha, Sanva, Kakun etc.

Rabi : In this period, Main production of Agriculture goods like Wheet, Channa, Jau, Pease, Mustard etc.

Jayad : In this period, Main production of Agriculture goods like Water Melon, Kakri, Musk Melon, Mango, Jamun,Lemon etc.
Culture of Chitrakoot, Uttar Pradesh
Ramayan Mela, Chitrakoot Mahotsava and Diwali Mela are some of the main fairs organised on different occasions in the district.
Cuisine of Chitrakoot, Uttar Pradesh
Places of interest in Chitrakoot, Uttar Pradesh
Ramghat-
The ghats that line the Mandakini river are called Ramghat. Here, amidst the chanting hymns and the sweet fragrance of incense, holy men in saffron sit in silent meditation or offer the solace of their wisdom to the countless pilgrims who converge here. The evening arti here witnesses a deep and abiding faith in the sanctity of Chitrakuta. During the exile period Rama, Lakshmana and Sita took bath here and believed to have appeared before the poet Tulsidas. Tulsidas has expressed that historical and religious incidence in the following metre in Hindi .
Kamadgiri -
Kamadgiri, the original Chitrakuta, is a place of prime religious significance. A forested hill, it is skirted all along its base by a chain of temples and is venerated today as the holy embodiment of Rama. Lord Rama is also known as Kamadnathji which literally means fulfiller of all wishes. There is a five KM Parikrama Path around the Kamadgiri Mountain. Near Khohi Village there is a BHAGWATPEETH DHARMARTH SEVA SANSTHAN, in this Ashram the facility of Rest and Cool water is available organised by ACHARYA NAVLESH DIXIT "BHAGWAT RATNA"'Contact:
Bharat Milap -
Places Related to Ramayana, showing Chitrakuta in Rama's journey from Ayodhya to Lanka. Bharat Milap temple is located here, marking the spot where Bharata is said to have met Rama to persuad him to return to the throne of Ayodhya. It is said that the meeting of four brother was so emotional that even the rocks and mountains of chitrakut melted . Foot prints of Lord Rama and his brothers were imprinted on these rocks and are still present today and seen in Bharat Milap Mandir.
Janaki Kund -
Janaki Kund is situated upstream of the Ramghat where it is believed that Sita bathed in the crystal clear waters of Mandakini river during the years of her exile with Rama. prakash
Sati Anasuya ashrama -
Sati Anasuya ashrama is located further upstream, 16 km from the town, set amidst thick forests that round to the melody of birdsong all day. It was here that Atri muni, his wife Anasuya and their three sons (who were the three incarnations of Brahma, Vishnu and Mahesh), lived and are said to have meditated.
As per description of Valmiki at one time there was no rain in Chitrakuta for ten years. There was a severe famine and nothing was left to eat or drink for animals and birds. Sati Anasuya performed hard and intensive austerities and got the river Mandakini down on earth. This led to the greenery and forests to grow which removed the sufferings of all sages and the animals
Sati Anasuya ashrama at present is a very peaceful place where various streams from the hills converge and form the Mandakini River. It is said that Rama along with Sita had visited this place to meet Maharishi Atri and Sati Anasuya. It is here Sati Anasuya explained to Sita the grandeur and importance of satitva. The dense forests of Dandaka start from this place. It was ruled by Ravana. Ravana had appointed strong rakshasas like Khara and Viradha as its rulers. The place was infected by the terror of rakshasas.
Sphatic Shila -
A few kilometres beyond Janaki Kund is another densely forested area on the banks of the Mandakini. One can climb up to the boulder, which bears the Rama's footprint and Sita. It is said that Lord Rama with his own hands did Shringar of his wife Sita and where Sita was pecked at by Jayant in the form of crlow.
Gupt-Godavari -
Gupt-Godavari is situated at a distance of 18 km from town. Here is a pair of caves, one high and wide with an entrance through which one can barely pass, and the other long and narrow with stream of water running along its base. It is believed that Rama and Lakshmana held court in latter cave, which has two natural throne-like rocks.
Pampapur
It is situated in the valley of Devangana. Here we find sacred caves. Sacred caves related to Lord Rama.
Hanuman Dhara -
Located on a rock-face several hundred feet up a steep hillside is a spring, said to have been created by Rama to assuage Hanuman when the latter returned after setting Lanka afire. A couple of temples commemorate this spot, which offers a panoramic view of Chitrakuta.
Bharat Koop
Bharat Koop is where Bharata stored holy water collected from all the places of pilgrimage in India. It is small, isolated spot a few kilometres from the town.
MOUNTAINS in Chitrakoot, Uttar Pradesh
There are many mountains of Vindhyachal Parvat Mala in both Tehsil Karvi & Mau, Main Mountains are as follows :
Madfa Pahar : This mountain is situated in Karvi Tehsil
Chitrakoot Parvat Mala: KamadGiri, Hanumaan Dhara, Janki Kund, Lakshman pahari,and Devangana are famous Religious mountains.
Balmiki Pahar: This mountain is situated at allahabad & Banda National Highway Marg in Karvi Tehsil
Events in Chitrakoot, Uttar Pradesh