Aligarh District, Uttar Pradesh
Geography of Aligarh, Uttar Pradesh
Aligarh is situated in the middle portion of Doab, or the land between the Ganga and Yamuna rivers. The principle town in the Aligarh district for the last many centuries has been its headquarters, Aligarh, 126 KM south east of Delhi. It is known till the 18th century by the earlier name of Kol. After the British occupation of Aligarh in September 1803, the present Aligarh district was formed in 1804. The city is the administrative district of Aligarh District. Aligarh is located at 27.88° N 78.08° E. the average elevation of the city is 178 meters. The summer temperature varies between 43°C to 30°C and winter temperatures between 25 °C to 5 °C.
Aligarh is one of the most renowned commercial as well as educational centers of North India. The city produces and exports different types, kinds and sizes of locks. Lock manufacturing and export remains the lifeline of the city. Another famous product that can be bought in Aligarh are Brasses. Aligarh is also famous for its `Aligarh Pajamas`. These dress materials are of fine qualities and have no parallels in India. Aligarh remained as a center for various movements that have re-shaped India. Aligarh is synonymous with the famous Aligarh Muslim University. The college was established by Sir Syed Ahmed Khan in order to help Muslims to come in terms with the changing realities of the world. In the later years, the city also became the launch pad for the nationalist movements in India including the famous Khilafat Movement. The city has been home to various nationalist leaders as Syed Brothers, Maulana Abul Kalam Azad, Maulana Sibli Nomani and Zakir Hussein among others.
Climate
Aligarh has a monsoon influenced humid subtropical climate, typical of north-central India. Summers, which start in April are hot with temperatures peaking in May. Average temperatures range between 28–33 °C (82–91 °F). The monsoon starts in late June, continuing till early October, with high humidity levels. Aligarh gets most of its annual rainfall of 800 millimetres (31 in) during these months. Temperatures then decrease, and winter starts in December, and continues till early February. Temperatures range between 12–16 °C (54–61 °F). Winters in Aligarh are generally mild, but fog and cold snaps may occur. The best time to visit Aligarh is during the months of February, March or November when temperatures are moderate and humidity low.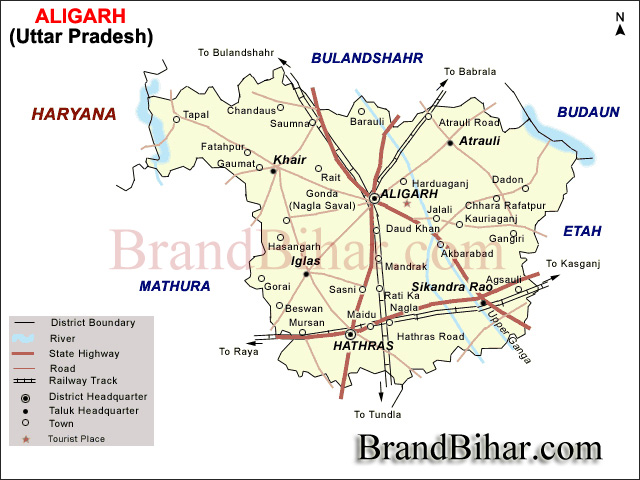 Demographics of Aligarh - As per the 2001 census, the population of Aligarh is 667,732. Males constitute 53% of the population and females 47%. Aligarh has an average literacy rate of 55%, which is lower than the national average of 59.5%. The male literacy rate is larger than the female literacy rate. 59% of the males are literate and 41% of the females are literate in Aligarh.
Transport of Aligarh :
Aligarh is well connected to rest of the country by means of air, rail and road.
By Air - the nearest airport is New Delhi, which is 130 kilometers from downtown Aligarh.

By Rail - The main railway station in Aligarh is Aligarh Junction. Aligarh is well connected to cities of New Delhi, Agra, Kanpur, Lucknow, Benaras, Jaipur, Kolkata and Mumbai through a cluster of super fast and express trains.

By Road- Aligarh is well connected to other cities through a network of National and State Highways. The city has regular buses to destinations like Jaipur, Agra, Mathura, Ghaziabad, New Delhi, Lucknow and Varanasi.
Education of Aligarh -
One of the best universities of the whole Asia is the Aligarh Muslim University located at the heart of Aligarh. It is an institution of international repute offering more than 250 courses in traditional and modern branches of education. Aligarh Muslim University is the second largest Muslim University in the world after the world famous and renowned Al Azhar University in Cairo. Students from Africa, West Asia and South East Asia are drawn towards this University.

The other schools of Aligarh are Our Lady of Fatima Higher Secondary School, Delhi Public School, St. Fidelis, Aligarh Public School, Three Dots, D.S. Degree college, S.V. Degree college ,T.R. Girls college, Institute Of Information Management and Technology (IIMT) and Blue Bird Senior Secondary School.
Economy of Aligarh :
The city is one of the major business centers of Uttar Pradesh. The city of Aligarh is famous for locks and sculptures. The locks produced in Aligarh city are exported all over the world and is of great demand everywhere. The city is as well as a major center for Brass Hardware and sculptures.
Culture of Aligarh, Uttar Pradesh
Cuisine of Aligarh, Uttar Pradesh
Places of interest in Aligarh, Uttar Pradesh
The two important places of interest in Aligarh are :

The city also has well known markets as Railway Road market, Centre Point Market, Amir Nisha and Shamshad market. The center point market is popular for its savoury cuisines. The Amir Nisha market is a major shopping hub famous for its variety of clothes, jewelery and cosmetics. The Shamshad market is a popular book shop.
Events in Aligarh, Uttar Pradesh