Agra District, Uttar Pradesh
Geography of Agra, Uttar Pradesh
The Agra district is situated in western U.P. between   27.11' degree Latitude North and 78.0' degree to 78.2' degree Longitute East on the bank of Yamuna river. Its Altitude is 169 meters above sea level. On the North it is bounded by Mathura District, On the South it is bounded by Dhaulpur District, On the East it is bounded by   Firozabad District and On the West it is bounded by Bharatpur. Agra is situated on the bank of Yamuna river. It is 363 kilometres west of state capital, Lucknow and 200 kilometres south from national capital New Delhi.
In Agra Maximum Temperature in Summer is 45°C and minimum temperature is about 21.9°C and in Winter maximum temperature is 131.7°C and minimum tempreature is about 4.2D°C. Best season for tourist is from October to March.
Area and Population
According to Census 1991, the are of Agra district is 4027.00 sqr. km., Where Rural area is 3838.60 sqr. km. and Urban area is 188.40 sqr. km.. Its Total Population is 27,51,021 out of which Males are 15,01,927 and Females are 12,49,094. Of the Total Population, 16,39,935 constitute the Rural Population and 11,11,086 are makes the Urban Population.
Climate :
Agra, located on the Indo-Gangetic plain has a continental sub-tropical climate, with long, hot summers from April to September when temperatures can reach as high as 45°C (113°F). During summers dry winds (loo) blow in this region. The monsoon months from July to September see about 67 cm (27 inches) of rainfall annually.
Area: 120.57 sq. km
Altitude: 169 metres above sea level
Location: Uttar Pradesh, India
Languages: Hindi and Urdu
Administrative Division of Agra District
The Agra district is divided into Six Tehsils and 15 Blocks. Total number of Nayay Panchayats in the district are 114 while Gram Sabhas stands at 636. The total populated villages are 904. The total number of police stations in the district are 41 out of which 16 are in Urban area and 25 are in Rural area. The total number of Railway Stations (including Halts) are 29 and Bus Stands/Bus Stops are 144. Total number of Broad Guage lines is 196 K.M. and Meter Guage is 35 K.M.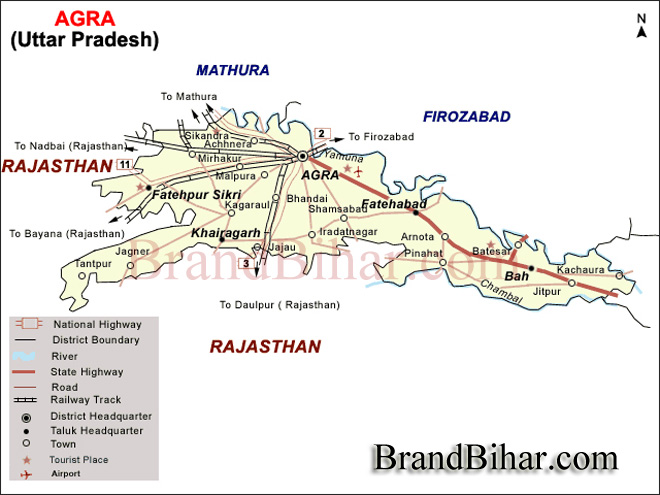 How to reach Agra (Transport System in Agra)
By Air
Agra Airport is about 12.5 km from city center
By Rail
Agra is on the central train line between Delhi (Station Code: NDLS) and Mumbai (Bombay) (Station Code: CSTM) and between Delhi and Chennai (Station Code: MAS) and many trains like Bhopal Shatabdi, Bhopal Express, Malwa Express, Gondwana Express, Jabalpur - Jammutawi Express, Shreedham Express, Garib Rath, Tamil Nadu Express, Chennai Rajdhni etc. connect Agra with all major Indian cities like New Delhi, Mumbai, Kolkata, Chennai, Hyderabad, Bengaluru, Pune, Bhopal, Indore, Gwalior, Jabalpur, Ujjain, Jaipur, Lucknow etc. every day. Some east-bound trains from Delhi also travel via Agra, so direct connections to points in Eastern India (including Kolkata) (Calcutta) are also available. There are close to 20 trains to New Delhi and Gwalior Junction every day, and at least three or four to Bhopal, Indore, Nagpur, Mumbai and Chennai. There are three main railway stations in Agra: 
1. Agra Cantt. Railway StationAgra Cantt (Station Code: AGC) is the main railway station and lies southwest of the Taj and Agra Fort, both of which are a short ride from the station by car, auto-rickshaw, or cycle rickshaw.
2. Agra Fort Railway Station (Station Code: AF) near Agra Fort, is infrequently serviced by the interstate express trains, it is one of the oldest railway station in the country. The station serves trains to the east (Kanpur, Gorakhpur, Kolkata, Guwahati) and central India Ratlam, Nagda, Kota (Haldighati Express). Some of these trains also stop at Agra Cantt.
3. Raja Ki Mandi (Station Code: RKM) is a small station. Some of the trains which stop at Agra Cantt also stop here. Other stations are Idgah, Billochpura, Agra City, Yamuna Bridge.
The Lluxury Trains – the Palace on Wheels, and the Royal Rajasthan On Wheels also stop at Agra on their eight day round trip of tourist destinations in Rajasthan and Agra. The Buddhist Special Train also visits Agra.
By Road
Idgah Bus Stand, Taj Depot, Ford depot and Inter State Bus Terminal (ISBT) are the major Bus Stands in Agra and is connected to most of the bigger cities in North India.
From Delhi: NH2, a modern divided highway, connects the 200 km distance from Delhi to Agra. The drive is about 4 hours. The primary access to the highway is along Mathura Road in Delhi but, if coming from South Delhi or Delhi Airport, it is easier to take Aurobindo Marg (Mehrauli Road) and then work up to NH2 via Tughlakabad.
From Jaipur: National Highway 11, a Four lane divided highway, connects Agra with Jaipur via the bird sanctuary town of Bharatpur. The distance of around 255 km can be covered in around 3–4 hours.
From Gwalior A distance of around 120 km, takes around 1.5 hours on the National highway 3, also known as the Agra – Mumbai Highway.
From Lucknow / Kanpur NH2, the divided modern highway, continues on to Kanpur (285 km, 5 hours) and from there to points East ending in Kolkata. From Kanpur, NH25 heads for the city of Lucknow (90 km, 2 hours).
The Mahatma Gandhi(MG) Road which runs through the city connects it from one end to the other. In March 2010, the Uttar Pradesh government, through an open bidding process, chose Jaypee Associates to develop an Inner Ring Road to connect NH2/Yamuna Expressway in the north to NH3 in the south in a 30 month timeframe. In September 2010, Gifford was chosen to design the road.
By Taxi -
Tourist can hire a taxi for local sight seeing or agra visit from local taxi stand. A prepaid taxi counter is available at agra cantt railway station.
Local Transport
Recently, under JNNURM (Jawaharlal Nehru National Urban Renewal Mission) in order to revamp city's urban infrastructure Tata-Marcopolo's city buses are being run by Agra Municipal Corporation covering whole city in an efficient way.
Other para-transit modes includes auto-rickshaws and rickshaw. While passengers need to negotiate rates for the rickshaws and they are usually expensive, there is a system of (what is called) 'Tempo' which are autorickshaws that run on specific routes called out by drivers. Tempos take around 6 people simultaneously and work out to be most economical and practical.
Polluting vehicles are not allowed near Tāj Mahal, so one needs to take electric autos or Tanga (Tonga) from a few kilometres outside the Tāj Mahal.
Economy of Agra
Although tourism contributes to a large extent in the economy of Agra, the city has a substantial industrial base. A lot of manufacturing plants and industry related wholesale markets is prominent in Agra. Agra Industries are doing a fine job in various fields. Producers and dealers of Agra deal in different products and has a vast market to support them. The economy of Agra is also dependant on indrustrial production. But, the cities industrial base also produces automobiles, leather goods, handicrafts and stone carving.Agra has a good number of apparel and garment manufacturers and exporters. Some of the leading names in the industry are Kamlesh Exports, Jsn International, India Craft etc.Agra has also developed a thriving export business. Agra has developed an important market for the automobile industry. Anil Diesels, Benara Auto, Harvest Group of Industries and Malloys India are some of the major players of the automobile industry in Agra. The leather industry is among the most traditional and original industries of Agra. Today, Agra's economy is mainly dependant on tourism. This city is home to some of the most prestigious spas, resorts and hotels in all of India. In fact, one of the largest spas in all of Asia is the Kaya Kalp which is located in the Hotel Mughal. Primarily the Economy of the Agra district is agriculture based while the economy base of Agra city is Small Scale Industries, Commerce and Trade. Major crops
Culture of Agra, Uttar Pradesh
Cuisine of Agra, Uttar Pradesh
Places of interest in Agra, Uttar Pradesh
(Please click on the name to view the detail information)
Fatehpur Sikri
Itmad ud Daula
Akbar's Tomb, Sikandra
Soor Sarovar
Swami Bagh Samadhi
Mankameshwar Temple
Indrabhan Girls' Inter College
Guru ka Tal
Jama Masjid
Chini ka Rauza
 Chhatri of Raja Jaswant Singh
Ram Bagh
Mariam's Tomb
Mehtab Bagh
Keetham Lake
Mughal Heritage Walk
The Cathedral of the Immaculate Conception
Events in Agra, Uttar Pradesh