Samastipur
Samastipur is situated at the banks of the Budhi Gandak River.
Area of Samastipur                          2905 Sq. km
Latitude of Samastipur                    250 55 N
Longitude of Samastipur                850 5 E
Rivers in Samastipur                       Burhi Gandak, Baya, Kosi, Kamla, Kareh and Jhamwari and Balan.
Sub-Division in Samastipur            04
Blocks in Samastipur                       21
Villages in Samastipur                    1237 
STD Code of Samastipur                06274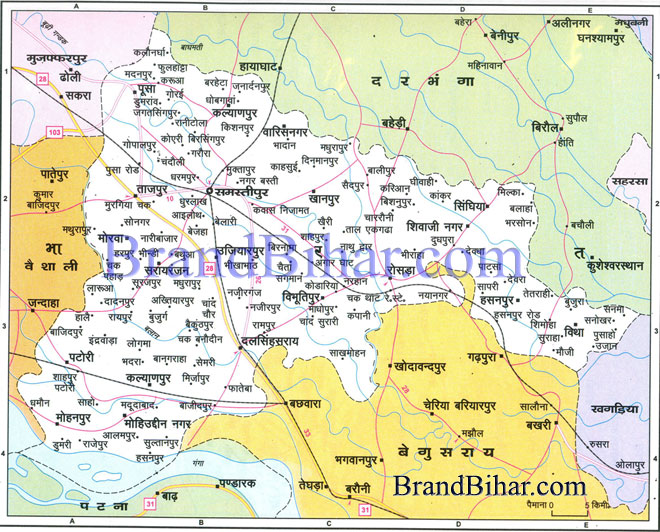 Click on the Map of Samastipur to see the large View of Samastipur Map
Samastipur district is bounded on the North by the Bagmati River which separates it from Darbhanga district, on the West by Vaishali and some part of Muzaffarpur districts, on the South by the Ganges, and on the East by Begusarai and some part of Khagaria districts.
How to Reach Samastipur
Samastipur is the Divisional Headquarters of the North Eastern railway. The district has direct train link with Patna, Kolkata, Delhi, Dhanbad, Jamshedpur and other places of importance. National Highway No. 28 passes through the district.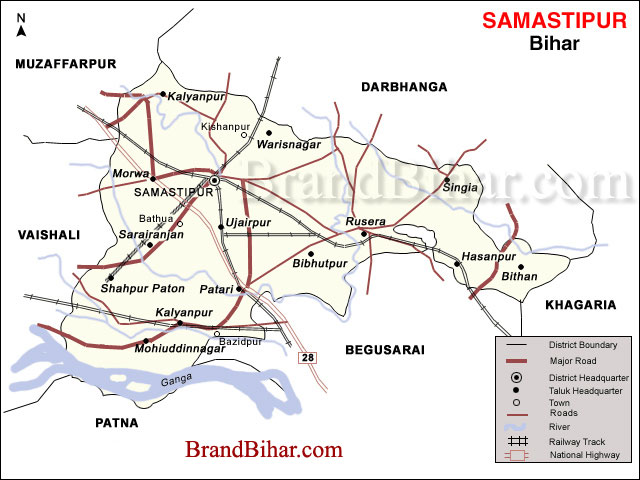 Places of interest in Samastipur
Thaneshwar Temple
Thaneshwar Temple is a very famous tample of Lord Shiva, and is situated at the heart of the city. Other new temples are also popping up. The latest one is Shri Khatu Shyam Mandir at Gola Road Samastipur. There are numerous other temples as well. A very famous temple 'KHUDNESHWAR STHAN' is also there situated in the vill. MORWA(RAYTOL) which shows hindu muslim unity there .IT is said that this SHIVLING was found inside 10ft of earth it is not man made and founder was a muslim .here both community comes to worship the lord shiva.