Katihar
The district of Katihar is situated in the plains of North Eastern part of Bihar State, surrounded by Purnea district in the North and West Bhagalpur and Sahebganj district in the South and West Bengal in the East. It was one of the Subdivisions of the old Purnea district and was bifurcated as a separate district on 2nd October, 1973. This district has three Subdivisions – Katihar, Barsoi and Manihari and sixteen community development blocks. Katihar district is situated between Latitude 250 42' - 260 22' N and Longitude 870 10' - 880 05' E.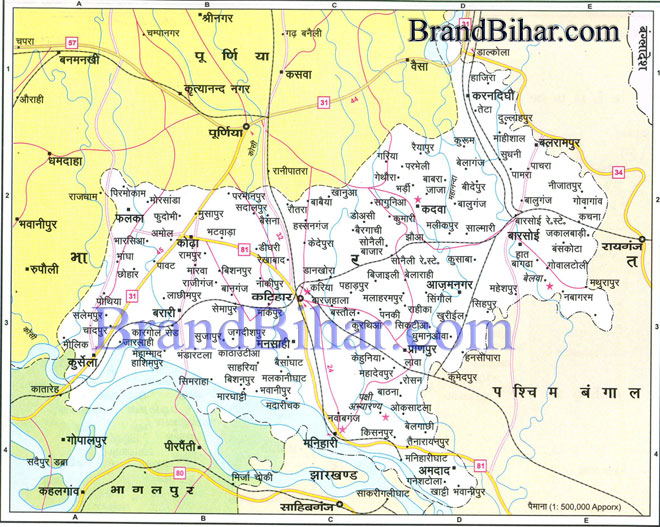 Click on the Map of Katihar to see the large View of Katihar Map
TOPOGRAPHY : 
The topography of the Katihar district has been very much affected by the floods of river Ganges, Mahananda and Koshi. The district has alluvial soil and due to deposit of sand-silt by rivers and soil in southern and the western part has become sandy. The land is slightly higher in the North and gradually slopping towards the South. The slop is gradual. There is no hill in the district except a small hillock in Manihari Block which is composed of nodular lime stone.