Chief Minister of Bihar - Shri Jeetan Ram Manjhi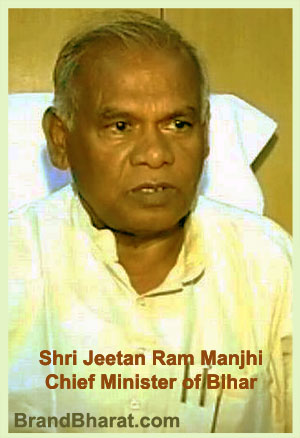 Profile
| | | |
| --- | --- | --- |
| Father's Name | : | Late Shri Ramjeet Ram Manjhi |
| Date of Birth | : | 6th October, 1944. |
| Place of Birth | : | Village-Mahkaar, District - Gaya, State - Bihar. |
| Education  | : | B.A. (Hons.) |
| Marital Status | : | Married. |
| Spouse's Name | : | Smt. Shanti Devi. |
| No. of Children | : | Two Sons and Five Daughters. |
| Entry in Politics | : | 1980. |
| Permanent Address  | : | Village - Mahkaar, PO - Sapneri, PS - Khijarsarai, District - Gaya, Bihar. |
| Present Address | : | 12M, Stand Road, Patna. |
| | | |
| --- | --- | --- |
| Positions Held |   |   |
| 1980-1990 | : | Member, Bihar Legislative Assembly. |
| 1996-Till Date | : | Member, Bihar Legislative Assembly. |
| 1983-1985 | : | Deputy Minister, Govt. of Bihar. |
| 1985-1988 | : | State Minister, Govt. of Bihar. |
| 1998-2000 | : | State Minister, Govt. of Bihar. |
| 2008-2014 | : | Cabinet Minister, Govt. of Bihar. |
| From 20/05/2014 |   | Chief Minister, Bihar. |
Cultural Service
Special Programmes for Maha Dalits, Creation of College and its Development Work, Functioning as Honorary Member of University, Promotion of Magahi Language.
Hobbies
Reading News Papers. Social Work for the Weaker Section of the Society.
Other Information
Remains active for development of people from monority, scheduled caste and backward classes. Played important role in constitution of Maha Dalit Commission by Hon'ble Chief Minister Shri Nitish Kumar by uniting maha dalits across the State of Bihar. Engaged in making the work of Bihar Maha Dalit Mission and Vikas Mitra truly successul.